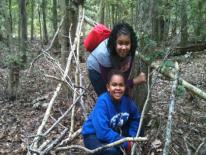 Outdoor Explorer: Family Adventurers is an intergenerational program that offers participants of all ages the chance to engage in outdoor recreation excursions together. Excursions include urban hiking, eco-kayaking, zip-lining, horseback riding and much more. Beginning in January 2014, an excursion will take place on the second Saturday of each month. Please note that while the outings are free, registration is required for all excursions.
Age Group: Intergenerational
2014 Excursion Schedule

SAVE THE DATE: National Trails Day: On Saturday June 7, 2014, Outdoor Explorer: Family Adventurers will host a city-wide event to celebrate National Trails Day. More information to come.

| Activity | Date | Meet Up Location |
| --- | --- | --- |
| Hiking @ Rock Creek Park | January 11, 2014 | Hamilton Rec. Ctr. |
| Snow Tubing | February 8, 2014 | Fort Stanton Rec. Ctr. |
| Ropes Course/Zip Lining | March 8, 2014 | Deanwood Rec. Ctr. |
| Hiking @ Capital Cresent Trail | April 12, 2014 | Palisades Rec. Ctr. |
| Kayaking | May 10, 2014 | North Michigan Rec. Ctr. |
| National Trails Day | June 7, 2014 | Fort Dupont Park |
| Horseback Riding | June 14, 2014 | Sherwood Rec. Ctr. |
| White Water Rafting | July 12, 2014 | Columbia Heights Comm. Ctr. |
| Urban Hiking | August 9, 2014 | Anacostia Rec. Ctr. |
| Biking @ Rock Creek Park | September 13, 2014 | Chevy Chase Comm. Ctr. |

_____
Environment and the Great Outdoors Division
Columbia Heights Community Center
1480 Girard Street, NW, 4th Floor
Washington, DC 20009
Phone: (202) 741-8716
Email: dpr.environmental@dc.gov