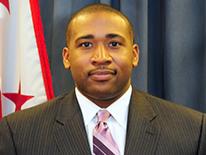 Keith A. Anderson is the Director for the DC Department of Parks and Recreation (DPR). In January 2015, Director Anderson was appointed Interim, and then Acting Director, by Mayor Muriel Bowser. He was confirmed by the DC City Council in July 2015.
Prior to DPR, Mr. Anderson held the title of Director at the District's Department of the Environment (DDOE). As DDOE's Director, Mr. Anderson established the world's first Stormwater Retention Credit (SRC) trading program; lead the effort to make Washington, DC the third most sustainable city in the United States; orchestrated the District's Municipal Aggregation Program (DC MAP), saving the District of Columbia taxpayers $30M in electric costs; pioneered the effort to write the District of Columbia's Sustainability Plan; and had direct oversight of approximately 300 employees, 4 administrations, 14 divisions and a $115M budget.
With more than 12 years of public service experience in the District, Mr. Anderson has served as DDOE's Director, Interim Director, Deputy Director and Chief of Staff. During his tenure as DDOE's Chief of Staff, Mr. Anderson coordinated overall agency operations including development and implementation of regulations, procedures, and budget to ensure progress toward the agency's strategic plans and objectives. He provided direct oversight for the Office of Policy and Sustainability, the Office of Enforcement and Environmental Justice, the Office of Community Relations, and the Office of Public Information.
As Deputy Director of DDOE's Energy Administration, he managed implementation of key energy programs, including weatherization, the renewable energy incentive program, energy conservation, and community outreach and education. He was instrumental in the creation of the DC Sustainable Energy Utility (DC SEU), a multi-year, multi-million dollar contract to roll-out programs designed to improve energy efficiency in the District and create green jobs for residents. Prior to his position as Deputy Director, Mr. Anderson was the Chief of DDOE's Energy Affordability Division; he managed the District's program to provide approximately 25,000 low-income District's residents each year with financial assistance to meet the rising costs of home energy.
Prior to his tenure at DDOE, Mr. Anderson served as a senior budget analyst for the Office of the Chief Financial Officer (OCFO).
Mr. Anderson has served on several professional organizations including: the DC Water and Sewer Authority (WASA); the Principal's Staff Committee for the U.S. Environmental Protection Agency's (EPA) Chesapeake Bay Program (former Chairman); Member of the District of Columbia's Ward 5 Land Transformation Task Force; former Chairman of the DC Sustainable Energy Utility (SEU) Advisory Board; and former Board Member of the National Association of State Energy Officials.
A native of the District of Columbia, and a graduate of DC's public school system, Mr. Anderson earned his bachelor's degree at Hampton University in Virginia. He currently resides with his family in Ward 4.