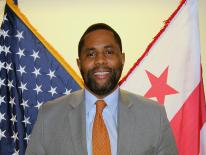 Delano Hunter is the Acting Director of the DC Department of Parks and Recreation (DPR). Mr. Hunter comes to DPR from Serve DC, where he was Chief Service Officer for the District of Columbia.
During Director Hunter's time at Serve DC, the agency's federal grant funding increased by nearly 40%, and over 12,000 residents and stakeholders were engaged each year, participating in innovative emergency preparedness trainings including Active Shooter Response, First Aid/CPR/AED, and the Community Emergency Response Team (CERT).
Throughout Director Hunter's tenure, Serve DC's oversight of AmeriCorps DC was an essential agency responsibility. The nation-wide service program addresses critical community needs, including increasing academic achievement, combating poverty, providing mentorships and sustaining national parks. In support of these efforts, AmeriCorps DC engaged 5,388 volunteers, who provided over $6.65M worth of service. $3.8 million in grants were distributed to 18 District organizations, and AmeriCorps DC members raised $3,660,957 in grants and in-kind donations for the organizations they served.
Prior to Serve DC, Mr. Hunter worked for Nike Inc., in Beaverton, Oregon, within the Retail Development Program. While at Nike, Mr. Hunter co-founded the Nike Product Creation Experience (NPCE). The mentoring program enabled high school students to gain exposure to product development and marketing from industry professionals. In 2008, Mr. Hunter was recognized as the Nike Black Employee Network Person of the Year.
Mr. Hunter is a native Washingtonian and a graduate of Spingarn Senior High School. He attended Delaware State University, where he graduated summa cum laude, with a degree in Business Management. Mr. Hunter went on to earn his MBA from the Johns Hopkins University Carey School of Business.
In January of 2019, Acting Director Hunter embarked on a District-wide recreation tour to showcase all of the great activities and programs made available by DPR. Check out the highlights from his 30 Days of DPR campaign and get to know a little more about DPR's mission and our esteemed Acting Director.