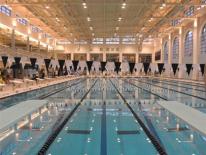 When visiting DPR's pools, please remember that proper swim attire is very important. Please view, download and/or print DPR's Swim Attire Requirements poster for clarification around pool wear; and look for this sign in the locker rooms and various pool common areas in our Aquatic facilities. With the safety of our guests as the highest priority, please also be reminded of our supervision ratios in aquatic center - Supervision Ratios in Aquatic Facilities.
---
DPR's facility locator has been experiencing intermittent functionality and may crash from time to time. Currently our website team is working with OCTO to create a new, mobile and web friendly facility locator to replace the current facility locator. We apologize for the inconvience.
Please visit Find a Rec Center or Pool Near You in the event the facility locator is down. While this page will not provide a mapping system, but it will provide our residents and users with an address, phone number and other basic information. Please note that this is a temporary alternative.
---
The Department of Parks and Recreation (DPR) has a number of aquatic facilities to allow DC residents year-round access to pools. For information on pool admission policies and fees, please visit our Pool Admission Information Page.
Outdoor Pools Season
Aquatic Centers (Indoor Pools)
The DC Department of Parks and Recreation (DPR) operates indoor pools and aquatic facilities across the District throughout the year. Open swim and lap swim times are available at each site. DPR swimming pools are also open for swimming lessons and other events.
Outdoor Pools (Seasonal)
DPR's outdoor swimming pools operate on individualized summer hours during the summer season, starting Memorial Day Weekend and closing Labor Day weekend. Pools will close one weekday each week for scheduled service and maintenance.
Children's Pools (Seasonal)
DPR's outdoor children's pools open for the summer season every year. Children's pools are small pools which range in depths from one to three feet, and are designed for children up to 12 years old.
Spray Parks (Seasonal)
DPR's Spray Parks offer an exciting and alternative way to cool off and have fun. Spray Parks open every summer and follow a similar schedule to outdoor pools.