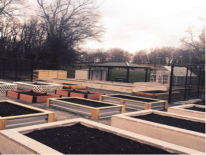 The Department of Parks and Recreation (DPR) works with the community to establish gardens across the District. DPR currently has over 30 community gardens under its jurisdiction.
If you are interested in being placed on the waiting list for a DPR community garden plot, please contact the garden organizer listed below or the DPR Community Garden Division at [email protected].
Community Gardens are listed by Ward, and then alphabetically. The number of plots indicated are the total number of plots at the garden. Most gardens are full and the plots have been assigned.

Please select this link to re-direct back to the Urban Garden Division page.

Ward 1
- Bruce Monroe Garden | 3000 Georgia Avenue, NW | 214 plots
[email protected]

- Euclid Street Garden/Justice Park | 14th & Euclid Streets, NW | 40 plots
[email protected]

- Kalorama Garden | Kalorama & Columbia Roads, NW | 19 plots
[email protected]
Kalorama has a lottery instead of a waiting list. To be included in next year's lottery, please send us an email AFTER Sept 30th with "Garden 2018" in the subject line. Due to overwhelming interest, the garden won't be able to respond to plot requests before that time.
Ward 2
- West End Garden | 25th & N Streets, NW | 20 plots
[email protected]

Ward 3
- Friendship Garden | 45th & Van Ness Streets, NW | 50 plots
[email protected]

- Newark Street Garden | 39th & Newark Streets, NW | 220 plots
[email protected]

- Palisades Garden | 5200 Sherrier Place, NW | 20 plots
[email protected]

Ward 4
- Emery Garden | 9th Street & Missouri Avenue, NW | 40 plots
[email protected]; [email protected]

- Fort Stevens Garden | 1327 Van Buren Street, NW | 9 plots
[email protected]

- Hamilton Garden | 1340 Hamilton Street, NW | 8 plots
[email protected]

- Takoma Garden | 300 Van Buren Street, NW | 11 plots
[email protected]

- Twin Oaks Garden | 14th & Taylor Street, NW | 62 plots
[email protected]
- Upshur Garden | 14th Street & Upshur Street, NW | 40 plots
[email protected]

Ward 5
- Arboretum Youth Garden | 2412 Rand Place, NE | No individual plots
[email protected]
- Edgewood Gardens | 300 Evarts Street, NE | 10 plots
[email protected]
- Harry Thomas Gardens | 1743 Lincoln Road, NE | 16 plots
[email protected]
- Langdon Youth & Community Garden | Franklin & Mills Avenue, NE | 22 plots
[email protected]

- Ledroit Gardens | 3rd & V Streets, NW | 56 plots
[email protected]

- Noyes Gardens | 10th & Franklin Streets, NE | 7 plots
[email protected]

- Taft Field Garden | 1800 Perry Street, NE | 10 plots
[email protected]

- Theodore Hagans Garden | 3201 Fort Lincoln Drive, NE | No individual plots
[email protected]

- Turkey Thicket Gardens | 1100 Michigan Avenue, NE | 15 plots
[email protected]

Ward 6
- Lovejoy Garden | 12th & E Streets, NE | 18 plots
[email protected]

- Southwest Garden | K Street & Delaware Avenue, SW | 32 plots
[email protected]
- Virginia Ave Garden | 9th & L Streets, SE | 80 plots
[email protected]


Ward 7
- Benning Garden | Fable Street & Southern Avenue, SE | 16 plots
[email protected]

- Hillcrest Garden | 3100 Denver Street, SE | 14 plots
[email protected]
- Lederer Garden | 4801 Nannie H. Burroughs Avenue, NE | 40 plots
[email protected]
- Soilful City Garden | 53rd & Dix Street, NE | No individual plots
[email protected]

Ward 8
- Douglass Garden | 1898 Stanton Terrace, SE | 9 plots
[email protected]

- Ferebee Hope Community Garden | 3999 8th Street, SE | 11 plots
[email protected]

- Fort Greble Garden | Martin Luther King Jr. & Elmira Street, SW | 9 plots
[email protected]

- Fort Stanton Community Garden | 1812 Erie Street, SE | 9 plots
[email protected]
- Mothers Peace Garden | Mississippi Avenue & 13th Street, SE | No individual plots
[email protected]
_____

For more information contact:
Josh Singer
Community Garden Specialist
Phone: (202) 262-2138
Email: [email protected]