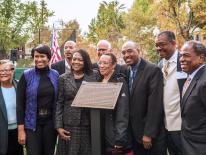 Friends of Parks Partners meet the below requirements:
Nonprofit organizations with 501c3 status and a stated mission to support a DPR park or facility. Designated groups steward, advocate, and host fundraising events for park sites to help maintain the grounds/buildings and assist in the planning process for the park or facility.

Friends Groups hold quarterly public meetings to engage the public, encourage voluntary membership, and submit quarterly reports to share outcomes from activities and events.

Friends Groups may support neighborhood parks, recreation centers, community gardens, and dog parks managed by the DC Department of Parks and Recreation.
If your group or organization would like to apply to become a Friend of a DPR Park, please submit a detailed Letter of Interest to [email protected]