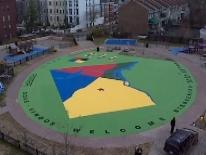 The featured work of this project was replacement of the existing natural grass play surface in the center of the Girard Street Playground, located next to the Columbia Heights Community Center, 1480 Girard St, NW, with a new rubber play surface. The natural grass surface was not sustainable due to the heavy use of this park and playground.
Based upon community input, the DC Department of Parks and Recreation (DPR) installed a new 9,500 square foot poured-in-place multi-colored rubber play surface, with the word "Welcome" throughout the design in 6 languages, representative of the languages spoken throughout the Columbia Heights community. The new rubber play surface is made of recycled materials and is permeable, sitting upon a bed of 32 inches of gravel, allowing rainwater to drain through it and minimizing run-off.
Additional amenities include a children's community garden and installation of an interior gate at the Fuller and Fairmont Street entrances. Other work included the reinstallation of swings at the 6 to 12 year old playground; replacement of missing slats from benches and missing tot playground teeter-totter handles; repairs to the pergolas at the tot playground and water feature, and painting of the walls inside the ellipse and children's playground.
The Girard Street Playground is accessible per the Americans with Disabilities Act and the new play surface is certified by the International Playground Equipment Manufacturers Association (IPEMA).
Office : Office of Planning and Capital Projects
Address : 1480 Girard Street, NW
Goal/Milestones :
Project Approval—TBD
Construction Began—TBD
Construction Completed—December 2008