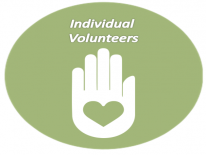 If you are interested in becoming a volunteer, please complete the DPR Individual Volunteer Application.
Volunteer Options
Camp Volunteers
Coaching Volunteers
One-Time Community Service Volunteers
Co-op Volunteers
Volunteer at DPR Signature Events
All individual volunteers are required to complete a suitability background check (at no charge to the volunteer).

After submitting your application you will receive a confirmation email.
This email contains further instructions, MPD background check location information and the required documents that you will need to be complete prior to your background check appointment.