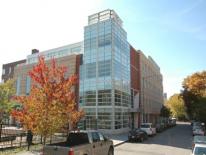 DPR's facility locator has been experiencing intermittent functionality and may crash from time to time. Currently our website team is working with OCTO to create a new, mobile and web friendly facility locator to replace the current facility locator. We apologize for the inconvience.
Please visit Find a Rec Center or Pool Near You in the event the facility locator is down. While this page will not provide a mapping system, but it will provide our residents and users with an address, phone number and other basic information. Please note that this is a temporary alternative.
---
The Department of Parks and Recreation (DPR) has a neighborhood recreation center that is close to your home. The well-supervised centers are your gateway to a broad range of fun and challenging activities. They are safe zones for children and teens and offer the chance for families to enjoy special activities and events close to home.
Name
Ward
Address
Phone
1
Anacostia RC
8
1800 Anacostia Dr., SE
(202) 698-2250
2
Arboretum CC
5
2412 Rand Pl., NW
(202) 673-4507
3
Bald Eagle RC
8
100 Joliet St., SW
(202) 671-5123
4
Banneker CC
1
2500 Georgia Ave., NW
(202) 673-6861
5
Barry Farm RC
8
1230 Sumner Rd., SE
(202) 442-5420
6
Benning Park CC
7
Southern Ave. & Fable St., SE
(202) 645-3957
7
Benning Stoddert CC
7
Temporarily closed for renovations
8
Brentwood RC
5
2311 14th St., NE
(202) 576-6667
9
Butler Wyatt Clubhouse #2
5
120 M St., NW
(202) 450-5232
10
Chevy Chase CC
3
5601 Connecticut Ave., NW
(202) 282-2204
11
Chevy Chase RC
3
500 41st St., NW
(202) 727-7714
12
Columbia Heights CC
1
1480 Girard St., NW
(202) 671-0373
13
Congress Heights RC
8
611 Alabama Ave., SE
(202) 645-3981
14
Deanwood RC
7
1350 49th St., NE
(202) 671-3077
15
Douglass CC
8
1898 Stanton Terr., SE
(202) 645-3980
16
Edgewood RC
5
3rd & Evarts Sts., NE
(202) 576-6410
17
Emery RC
4
5701 Georgia Ave., NW
(202) 576-3211
18
Ferebee Hope RC
8
3999 8th St., SE
(202) 645-3917
19
Fort Davis CC
7
1400 41st St., SE
(202) 645-9212
20
Fort Greble RC
8
MLK Jr. Ave & Elmira St., SW
Offline
21
Fort Stanton RC
8
1812 Erie St., SE
(202) 671-1040
22
Fort Stevens RC
4
1327 Van Buren St., NW
(202) 541-3754
23
Fort Stevens Senior Center
4
1327 Van Buren St., NW
(202) 541-3755
24
Friendship RC
3
Currently under construction/renovation
25
Glover Park CC
Formally Stoddert RC
3
4001 Calvert St., NW
(202) 299-3324
26
Guy Mason RC
3
3600 Calvert St., NW
(202) 727-7527
27
Hamilton RC
4
1340 Hamilton St., NW
(202) 576-6855
28
Hardy RC
3
4500 Q St., NW
(202) 282-2190
29
Harrison RC
1
1330 V St., NW
(202) 673-6865
30
Harry Thomas Sr. RC
5
1743 Lincoln Rd., NE
(202) 576-5642
31
Hearst RC
3
3950 37th St., NW
(202) 282-2207
32
Hillcrest RC
7
3100 Denver St., SE
(202) 645-9200
33
Jelleff RC
2
3265 S St., NW
(202) 462-1317
34
Joseph H. Cole RC
5
1299 Neal St., NE
(202) 442-9262
35
Joy Evans RC
6
555 L St., SE
Offline
36
Kalorama RC
1
1875 Columbia Rd., NW
(202) 673-7606
37
Kenilworth Parkside
7
Currently under construction/renovation
38
Kennedy RC
6
1401 7th St., NW
(202) 671-4794
39
King Greenleaf RC
6
201 N St., SW
(202) 645-7454
40
Lafayette RC
4
5900 33rd St., NW
(202) 282-2206
41
Lamond RC
4
20 Tuckerman St., NE
(202) 576-9541
42
Langdon Park CC
5
2901 20th St., NE
(202) 576-6596
43
Lederer Gardens
7
4801 Nannie H Burroughs Ave., NE
(202) 727-8061
44
Macomb RC
3
3409 Macomb St., NW
(202) 282-2199
45
Marie Reed RC
1
200 Champlain St., NW
(202) 673-7768
46
Marvin Gaye RC
7
6201 Banks Pl., NE
(202) 727-5432
47
Mitchell Park RC
2
1801 23rd St., NW
(202) 674-6641
48
New York Avenue RC
5
100 N St., NW
Offline
49
North Michigan Park RC
5
1333 Emerson St., NE
(202) 541-3522
50
Palisades RC
3
5200 Sherrier Pl., NW
(202) 282-2199
51
Park View CC
1
693 Otis Pl., NW
(202) 671-2186
52
Petworth RC
4
801 Taylor St., NW
(202) 576-9561
53
Randall RC
6
South Capitol & I Sts., SW
Offline
54
Raymond RC
4
3725 10th St., NW
(202) 671-2181
55
RH Terrell RC
6
155 L St., NW
(202) 939-
56
Ridge Road RC
7
57
Riggs-LaSalle RC
4
501 Riggs Rd., NE
(202) 576-5224
58
Rita Bright CC
1
2500 14st St., NW
-----
59
Rose Park RC
2
2609 Dumbarton St., NW
(202) 316-4210
60
Rosedale CC
6
61
SE Tennis & Learning Center
8
62
Sherwood RC
6
63
Stead RC
2
1625 P St., NW
(202) 673-4465
64
Takoma CC
4
300 Van Buren St., NW
(202) 576-7068
65
Theodore Hagans Cultural Ctr
5
66
Therapeutic RC
7
67
Trinidad RC
5
68
Turkey Thicket RC
5
69
Upshur RC
4
4300 Arkansas Ave., NW
(202) 576-6842
70
Volta Park RC
2
1555 34th St., NW
(202) 645-5668
71
Watkins RC
6