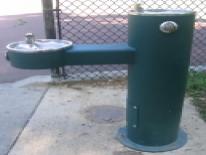 The exterior water fountains will be replaced with new water fountains at the DC Department of Parks and Recreation (DPR) Rose Park Recreation Center and field located at 26th and O Sts., NW.
Schedule and Status
This project began in summer 2008 and is scheduled to be complete in fall 2008.
Office : Office of Planning and Capital Projects
Address : 26th and O Sts., NW.
Goal/Milestones :
Project Approval—Completed
Construction Began—Summer 2008
Construction Completed—Fall 2008