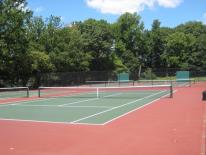 DPR operates over 130 tennis courts throughout the District of Columbia, with multiple outdoor courts available in every Ward. DPR's premier tennis facility is the Southeast Tennis and Learning Center (SETLC), located at 701 Mississippi Avenue, SE (Ward 8). The SETLC is the only DPR tennis facility with indoor, tournament style courts.
Link to interactive map of DPR Tennis Courts
[Please visit Find a Rec Center or Pool Near You in the event this link (to our facility locator) is down/not working.]
To permit a court, please visit DPR Permit Application. Permit requests should be submitted at least 30 days in advance and no later than 2 weeks prior to your event. Applications received within less than 7 business days of your event will not be accepted/processed.

For more information on DPR's Tennis Division or Programs, please call (202) 671-0314.

While a permit is not required to "Free Play" on any DPR Tennis Courts, DPR programs, classes, partner classes, permit holders and reservation holders are considered "first priority" on our courts. All "Free Play" tennis patrons are required to vacate the court if any of the aforementioned have reserved the court prior. We strongly encourage reserving a court for tennis play.

Ward
Court Name
Address
# of
Courts
Amenities
1
16th & Irving Sts., NW Courts
3149 - 16th St., NW
2
Banneker Comm Ctr
9th & Euclid Sts., NW
8
L, BL & RR
Bruce Monroe Park Courts
Irving St. & Georgia Ave., NW
1
Marie Reed Rec Ctr
18th & California Sts., NW
2
L
2
Francis Courts
25th & N Sts., NW
4
L
Rose Park Rec Ctr
26th & O Sts., NW
3
Volta Park Rec Ctr
1555 34th St., NW
2
BL
3
Chevy Chase Rec Ctr
5500 41st St., NW
2
L & BL
Forest Hills Courts
32nd & Brandywine Sts., NW
2
Fort Reno Courts
41st & Chesapeake Sts., NW
3
Friendship Rec Ctr
4500 Van Ness St., NW
2
BL
Hardy Rec Ctr
4500 Q St., NW
2
Hearst Rec Ctr
3600 Tilden St., NW
3
BL
Montrose Park Courts
30th & R Sts., NW
4
Newark St. Park Courts
39th & Newark Sts., NW
3
Palisades Comm Ctr
5200 Sherrier Pl., NW
3
BL
4
Fort Stevens Rec Ctr
1327 Van Buren St., NW
4
BL
Lafayette Rec Ctr
5900 33rd St., NW
4
Raymond Rec Ctr
3725 10th St., NW
2
BL
Takoma Comm Ctr
300 Van Buren St., NW
6
L & BL
5
Arboretum Rec Ctr
2412 Rand Pl., NE
2
BL
Dwight A Mosley Courts
20th & Otis St., NE
5
BL
Edgewood Rec Ctr
3rd & Evarts St., NE
2
BL
Harry Thomas Sr Comm Ctr
1743 Lincoln Rd., NE
2
Langdon Park Comm Ctr
2901 20th St., NE
4
L & BL
Langston Courts
26th & I Sts., NE
3
Theodore Hagans Comm Ctr
(Fort Lincoln)
3201 Fort Lincoln Dr., NE
8
L, BL & RR
Turkey Thicket Rec Ctr
1100 Michigan Ave., NE
8
L
6
Garfield Park Courts
Third & G Sts., SE
2
BL
Jefferson Courts
801 7th St., SW
5
BL
Kennedy RC
1401 7th St., NW
1
King Greenleaf Rec Ctr
201 N St., SW
2
L & BL
Randall Park Courts
First & I Sts., SW
2
L
Rosedale Rec Ctr
1701 Gales St., NE
2
Sherwood Rec Ctr
640 - 10th St., NE
1
L & BL
7
Benning Park CC
2
L
Benning Stoddert CC
4
Deanwood Rec Ctr
1350 - 49th St., NE
1
Fort Davis Comm Ctr
1400 - 41st St., SE
1
L
Hillcrest Rec Ctr
3100 Denver St., SE
4
BL
Kelly Miller Courts
4900 Brooks St., SE
3
L
Kenilworth-Parkside Courts
4300 Anacostia Ave., NE
4
Randle Highlands Courts
31st St & Pennsylvania Ave., SE
2
L & BL
8
Anacostia Park Courts
1900 Anacostia Dr., SE
9
Bald Eagle Rec Ctr
100 Joliet St., SW
2
L & BL
Congress Heights Rec Ctr
611 Alabama Ave., SE
1
Douglass CC
1
L
Ferebee-Hope Rec Ctr
3999 - 8th St., SE
1
Fort Stanton Comm Ctr
1812 Erie St., SE
1
L
Southeast Tennis & Learning Ctr
(SETLC)
701 Mississippi Ave., SE
6 Indoor Courts
7 Outdoor Courts (L)
Amenities: L - Lights | BL - Blended Lines | RR - Rest Rooms