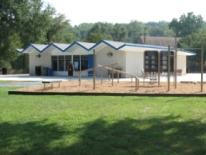 Project Description
This is two phase project that includes stabilization and ADA, in which various site improvements will take place at the site.
Phase 1: The center will be brought to ADA compliance. This will include new doors, bathrooms and other improvements
Phase 2: Outdoor lighting upgrades will take place in the Fall 2016
Long term recreation center improvements to take place in FY19.
Project Stats
Project Name: Arboretum Community Center - Stabilization & ADA Upgrades
Address: 2412 Rand Place, NE
Ward: 5
DPR Project Manager: Peter Nohrden
Status: Pre-construction
Issues: None
Current Allotment: $75,000.--
DGS Updates: For construction updates, project updates and more, please visit the DGS - Arboretum Project Page.

Schedule/Key Milestone Table
Title
Actual Start/
Event Date
Forecasted
Completion Date
Actual
Completion Date
Design
March 2016
----
March 2016
Site Closes to Public
April 11, 2016
N/A
N/A
Construction Starts
April 18, 2016
----
----
Construction Ends
June 2016
----
----
Site Reopens to Public
June 2016
----
----