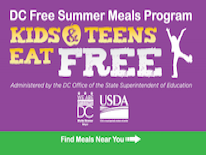 The US Department of Agriculture (USDA) Summer Food Service Program (SFSP), known in Washington, DC as the DC Free Summer Meals Program (DC FSMP), provides free, nutritious meals to children 18 years of age and younger in low income areas (i.e. areas in which 50% or more children/households receive free and reduced price meals during the school year).

Per an agreement with the Office of the State Superintendent of Education (OSSE), during the summer months, DPR's Office of Food and Nutrition Services (OFNS) administers assumes operational oversight for the site locations that participate under DPR's sponsorship agreement for the DC Free Summer Meals Program (FSMP), under the USDA's National Summer Food Service Program. Meals (breakfast and/or lunch) are served during June, July and August to youth residents, ages 18 and under, of the District of Columbia at a variety of locations including participating schools, recreation centers, DC Public Libraries, select DC Housing Authority locations, day care centers, faith-based organization and community based after-school programs.

DC Free Summer Meals Program Locations:
---
Interested in Becoming a Provider Site

DC's Provider sites distribute/provide free summer meals to our youth in the District. Provider sites include DPR, DC Public Libraries, churches, various school locations, various Boys and Girls clubs, youth centers and more. For more information about starting the process to be a provider site (whether new or returning), visit DC Free Summer Meals Program Frequently Asked Questions.

To learn about citywide summer activities for youth #SummerStrongDC, please visit Mayor Bowser's Summer Strong DC . #Meals4DCKids #SummerMealsDC
---
Kids' Café
Kids' Café
DPR provides after school supper meals as a part of the Kids' Café program at select DPR locations.
---

Other Resources
---
Office of Food and Nutrition Services
Emery Recreation Center
5701 Georgia Ave., NW - 2nd floor
Washington, DC 20011
Phone: (202) 576-7622
Fax: (202) 541-9519
Office hours:
Monday - Friday: 8:30 am - 5 pm || Closed: Saturday & Sunday