Sprint meets, championship & our annual awards ceremony are underway as we close out the 2016 DCSSL season. We invite everyone to come out, support our youth and cheer on these young, dedicated swimmers!! #DCSSL #DPRSwim
---
Welcome to the DPR DC Summer Swim League (DCSSL) webpage.
Click here to go to the registration page. Please scroll down and select DC Summer Swim League.

Registration for the 2016 Swim League will take place from April 11 through July 22, 2016. Interested participants may register at any DCSSL pool location or online. For more information, please contact Coach Green at [email protected].
The league is open to youth 5 - 16 years of age.

Click here to download the 2016 DC Summer Swim League Poster. [pdf}

2016 League Schedule
Monday, April 11 – Registration opens in ASAP
TBA – League meeting with coaches and managers
Monday, June 20 – League practices begin citywide
Friday, July 15 – Sprint Meet #1
Friday, July 22 – Sprint Meet #2
Friday, July 29 – DCSSL Championships
Friday, August 12 - Final day of League practice
Friday, August 5 – Relay Carnival and Awards Ceremony / Cookout
Friday, August 6 – Swim Meet Rain date (if needed)
Please note, in the event of inclement weather, the rain date for all meets is the following Saturday.
2016 Meet Schedule
All meets will be held at Oxon Run Pool (501 Mississippi Avenue, SE) from 6 pm to 9 pm on their respective Fridays.
Friday, July 15 – Sprint Meet #1
Friday, July 22 – Sprint Meet #2
Friday, July 29 – DCSSL Championships
Friday, August 5 – Relay Carnival and Awards Ceremony
Friday, August 6 – Swim Meet Rain date (if needed)
2016 Teams
Anacostia All Stars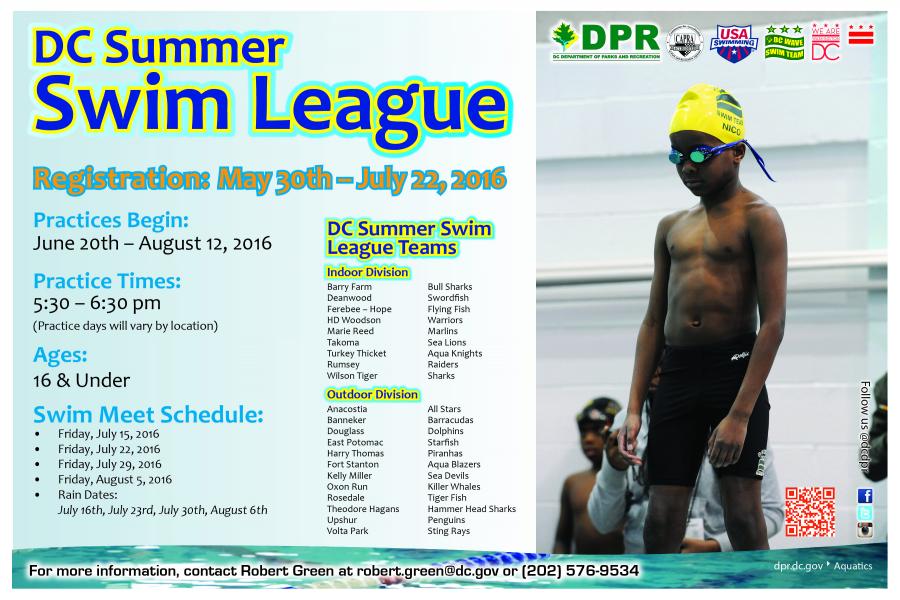 1800 Anacostia Dr., SE
(202) 724-1441
Banneker Barracudas
2500 Georgia Ave., NW
(202) 673-2121
Barry Farm Bull Sharks (Indoor)
1230 Sumner Rd., SE
(202) 645-5040
**NEW - Benning Park Blue Waves
5100 Southern Ave., SE
(202) 645-5044
Deanwood Swordfish (Indoor)
1350 49th Street, NE
(202) 671-3078
**NEW - Dunbar Sea Dragons (Indoor)
101 N St., NW
(202) 724-5328
Douglass Dolphins
1921 Frederick Douglass Ct., SE
(202) 645-5045
East Potomac Starfish
972 Ohio Dr., SW
(202) 727-6523
Ferebee-Hope Flying Fish (Indoor)
3999 8th St., SE
(202) 645-3916
Fort Stanton Aqua Blazers
1812 Erie St., SE
(202) 671-1040
**NEW - Francis Viperfish
2435 N St., NW
(202) 727-3285
Harry Thomas Sr. Piranhas
1743 Lincoln Rd., NE
(202) 541-7499
H.D. Woodson Warriors (Indoor)
5500 Eads St., NE
(202) 671-1289
**NEW - Jelleff Jets
3265 S St., NW
(202) 462-1317
Kelly Miller Sea Devils
4900 Brooks St., NE
(202) 724-5056
**NEW - Langdon Legends
2860 Mills Ave., NE
(202) 576-8655
Marie Reed Marlins (Indoor)
2200 Champlain St., NW
(202) 673-7768
Oxon Run Killer Whales
501 Mississippi Ave., SE
(202) 645-5042
Rosedale Tiger Fish
1701 Gales St., NE
(202) 397-1315
**NEW - Randall Rebels
25 I St., SW
(202) 727-1420
Takoma Sea Lions (Indoor)
300 Van Buren St., NW
(202) 576-8661
Theodore Hagans Hammer Head Sharks
3201 Ft. Lincoln Dr., NE
(202) 576-3017
Turkey Thicket Aqua Knights (Indoor)
1100 Michigan Ave., NE
(202) 576-9235
Upshur Penguins
4300 Arkansas Ave., NW
(202) 576-8661
Volta Park Stingrays
1555 34th St., NW
(202) 645-5668
William H Rumsey Raiders (Indoor)
635 North Carolina Ave., SE
(202) 724-4495
Wilson Tiger Sharks (Indoor)
4551 Fort Dr., NW
(202) 730-0583
________
For additional questions, please contact:
Coach Robert Green
Competitive Swimming Programs Manager
DPR Aquatics Division
Phone: 202-256-4718
Email: [email protected]