Stead New Entrance, Central Plaza, and Playgrounds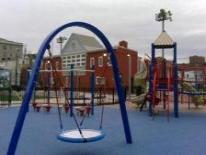 This project at the DC Department of Parks and Recreation (DPR) Stead Recreation Center, 1625 P Street, NW, included the following:
Construction of new and expanded and Americans with Disabilities Act (ADA) accessible main entrance
Construction of new central plaza with seating and artificial turf play area
Construction of new planting areas
Installation of new ornamental fencing
Construction of new central shade structure
Construction of two new playgrounds: playground for children ages 2 - 5 features a new play structure; playground for children ages 6 - 12 features a new play structure and climbing wall. Both playgrounds have poured-in-place rubber safety surfaces
Resurfacing of existing full-size basketball court
Two solar-powered "BigBelly" self-compacting trash cans, provided by the Friends of Stead Park
New playground structures and surfaces have been certified by the International Playground Equipment Manufacturers Association (IPEMA).
Schedule
Construction began in April 2008 and was completed in December 2008.
Other Information
During construction, DPR discovered the remains of two brick foundations on the park grounds and had an archaeological investigation conducted. Complete information about the findings of the archaeological investigation is included below. During the investigation, historic stone lintels (a horizontal structure, such as a beam or stone, that spans an opening, as between the uprights of a door or window or between two columns or piers) were salvaged from the Henry Hurt house, built in 1878 on the Stead grounds, and used and engraved as ceremonial plaques to mark the completion of this project.
Funding for the Stead project was also provided in part by the Mary Force Stead Estate.
Archaeological Investigation
During construction, crews were grading the site in preparation for improvements and uncovered what appeared to be two brick foundations. Previous archaeological investigations conducted at Stead during the 1980's indicated that historic resources might be located on the site. Accordingly, DPR requested an archaeological investigation of approximately 3,000 square feet of the park grounds. The purpose of the archaeological investigation was to determine if the park contains archaeological resources that may be important in understanding the history of the District of Columbia.
Two brick foundations were identified, one at 1625 P Street, NW, and one from a townhouse at 1613 P Street, NW. A 1928 Sanborn map, included in the report below, shows the two buildings and the carriage house, which is now used as the recreation center. In addition, the remains of a catch basin from the first Stead playground, circa 1950, were also unearthed.
Research revealed that the building foundation uncovered was likely the remnant of a row house built by Henry Hurt, a prominent Washington, DC entrepreneur. A veteran of the Confederate Army, Hurt arrived in Washington, DC at the conclusion of the Civil War. "Young, ambitious and determined," he gained employment as a driver and conductor for the Washington and Georgetown Railroad Company. Hurt was promoted rapidly through the company ranks and in just ten years, he ascended to the presidency of the streetcar company. As president of the Washington & Georgetown Railroad Company, Hurt was instrumental in converting the District's streetcars from horse-drawn to cable cars.
Numerous artifacts were discover on the park grounds, including a porcelain saucer with a blue Oriental pattern, a glass bottle neck, a vase, a ceramic doorknob, two ceramic vessels; and an enameled iron chamber pot.
Office : Office of Planning and Capital Projects
Address : Required
Goal/Milestones :
Project Approval—Completed
Construction Began—April 2008
Construction Completed—December 2008