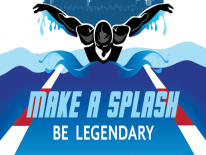 The 30th Annual Black History Invitational Swim Meet (BHISM) will be held February 12 - 14, 2016, at the Takoma Aquatic Center (300 Van Buren St., NW). #BHISM30
Press Release: DPR to Host the 30th Annual Black History Invitational Swim Meet

Keep Up with the Meet!!
Download the "Meet Mobile" app.
Follow @DCDPR on social media. Tag us on Twitter & IG. Use the hashtag #BHISM30.
Entry information
Team registration is currently closed. 2016 Meet Announcement Entry Packets are no longer available to download. Scheduling, host hotel information, team entry form, event schedule by heat and more were included in the packet.
The deadline for completed entry packages was Tuesday, January 26, 2016. Completed packets were due via email or regular mail by the Tuesday deadline date.
Incomplete entry packages and packages received after Tuesday, January 26, 2016 will be returned to the sender.

Corrections, changes and fees are due Friday, February 5, 2016.
No deck entries will be accepted.
If additional information is required, please contact Meet Director Rob Green at Robert.Green@dc.gov.
Call for sponsors!
DPR is excited to annouce sponsorship opportunities for the 30th Annual Black History Invitiational Swim Meet. For more information, please download the Sponsorship One Sheeter.
Press Release: DPR Announces Sponsorship Opportunities for the 30th Annual Black History Invitiational Swim Meet
Call for volunteers!
Thank you to all of the volunteers that have participated over the years!!! We are looking forward to a fantastic 30th BHISM and invite you to volunteer with DPR. Volunteers are needed in the following areas: timers, ribbon writers, runners and hospitality volunteers. Click here to register to be a volunteer.
Get your tickets today!!
Due to the popularity of this annual event, and in celebration of our 30th year hosting the Black History Invitational Swim Meet, DPR is using a ticketing system for the first time this year. Please go to #BHISM30 tickets to secure your tickets today. Please note that any and all spectators (both adults and children) must have a ticket to gain entry to the Takoma Aquatic Center during the swim meet. Thank you!!
2016 BHISM Schedule
Friday, February 12
- Session 1 (13 & over) : Warm up - 9 am | First event: 10 am
- Session 2 (12 & under) : Warm up - 12:50 pm | First event: 1:50 pm
Saturday, February 13
- Session 3 (13 & over): Warm up - 6:30 am | First event: 7:20 am
- Session 4 (11-12) : Warm up - 11:40 am | First event: 12:30 pm
- Session 5 (10 & under): Warm up - 3:30 pm | First event: 4:15 pm
- Honorees Dinner: 7 pm to 9 pm (By Invitation Only)

Sunday, February 14
- Session 6 (13 & over) : Warm up - 6:30 am | First event: 7:20 am
- High Point Award Ceremony for 13 & over: TBA
- Session 7 (11-12): Warm up - 11:40 am | First event: 12:30 pm
- High Point Award Ceremony for 11-12: TBA
- Session 8 (10 & under): Warm up - 3:30 pm | First event: 4:15 pm
- High Point Award Ceremony for 10 & under: At the conclusion of Session 8 (the last session of the day)
2016 BHISM Honoree's
DPR is proud to honor 3 individuals for the 30th Annual Black History Invitiational Swim Meet!!
Tommy Jackson - Atlanta, GA
Head Coach Tommy Jackson brings a wealth of knowledge, along with over 36 years of coaching experience, to the City of Atlanta Dolphins Swim Team. A native of Moultrie, Georgia, he served three years in the United States Army as an artillery man while serving one year of combat during the Vietnam War.
He later attended Albany State University in Albany Georgia from 1972-1976, where he swam and dove competitively for the school's Swimming and diving team. He received a Bachelor's Degree of Science and Graduated Cum laude from Albany State University in 1976. He attended Georgia State University in Atlanta, Georgia from 1976-1978 and received a Master Degree of Education with a concentration in Physical Education.

In 1974, he became an American Red Cross Volunteer to teach Water Safety Program. He holds CPR Certification, First Aid Certification, Water Safety Instructor, and Water Safety Instructor Trainer Certification, Lifeguard Training Certification, Lifeguard Instructor Certification, Lifeguard Training Instructor Trainer Certification, United State Swimming Certification, United State Swimming National Team Coach 2009-2010 and holds a T-5 Teaching Certification. - Read more.....
Gary Peterson - Detroit, MI
Gary Peterson is a Detroit native through and through. A proud product of Detroit's Public School system, as well as the City of Detroit Parks and Recreation Department, the mentors that influenced
him as a youth in the inner city, made Gary who he is today. Gary learned how to swim at the recreation centers and developed his skills for competitive swimming during his high school years at Martin Luther King Jr, Senior High. From there he went on to earn a swimming scholarship to South Carolina State University - SCSU (a Historically Black College/University - HBCU) graduating in 1978.

It was SCSU that he learned, and began to implement, one of his principles of life - "Each one, reach one. Each one, teach one." Gary returned to Detroit after gradution and started working for the City of Detroit Parks and Recreation Department, where his career would span over 38 years. He held various positions, working as a lifeguard, pool manager, Aquatics Manager and more. He taught well over 1000 adult and youth residents how to swim and in 2011, Gary retired from the City of Detroit Parks and Recreation Dept., he was the Aquatic Coordinator/ Manager at the time. However Gary continues to stay active, - Read more.....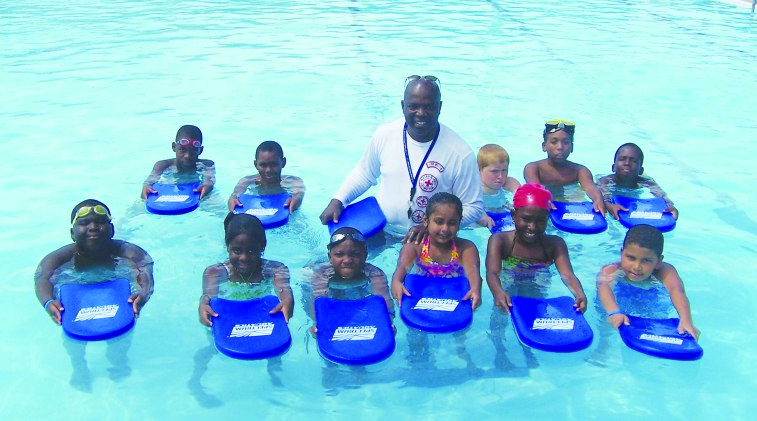 Lee Pitts - Dayton, FL
Lee Pitts, an internationally renowned swim instructor, is one of the most celebrated swim instructors of his generation. In 1992, Lee secured his place in history by becoming the first African American to produce, direct, and instruct in the award-winning swim lesson video - Waters: Beginners Swim Lessons for Adults and Children with Lee Pitts. With over 35 years of experience in the areas of swimming and water safety, he has taught thousands to swim. Lee, a former competitive swimmer, love of swimming blossomed at the A.G. Gaston Boys and Girls Club at age 7 in Birmingham, Alabama, where his mother Johnnie Pitts enrolled him and his older brother Eugene. After perfecting his competitive swim strokes by age 10, he found himself teaching his childhood friends to swim. He went on to swim for the Macline Swim Team, and the Birmingham Parks and Recreation Swim Team. By age 17, Lee became a Red Cross certified lifeguard and swim instructor and began teaching swim lessons and coaching swim teams in Birmingham.

After completing Talladega College with a Bachelor's Degree in Business and Clark Atlanta University with a Master's Degree in Economics, he started conducting swim clinics around the United States. In 1991, he founded the Lee Pitts Swim School in Fort Myers, Florida. Eight years later, the Lee Pitts Swim School Swim Team, which consisted of 80 African American students, obtained the Division I swim team championship in the Southwest Florida Swim League. - Read more.....
2016 BHISM Competing Teams
Washington, DC
DC Wave Swim Team (DCPR) - Host Team


Maryland
Baltimore City Swim Club (BCSC)
Central Chesapeake Swimming (PEAK)
Elite Rays Swim Club (ERSC)
Greenbelt Municipal (GM)
Prince George's Parks and Recreation (PGPR)
University of Maryland Aquatic Club (UMAC)
Maryland Suburban Swim Club (MSSC)
Patuxent Aquatics Club (PAC)

Virginia
Herndon Aquatic Club Commanders (HACC)
Machine Aquatics (MACH)
Nations Capital Swim Club (NCAP)
Shark Tank Racing Squad (TANK)
East Coast Aquatic Team (ECAT)
Victory Lane Aquatic Club (VLAC)
WEAquatics (WEA)

Georgia
City of Atlanta Dolphins (CAD)
Healthy Lives Healthy Kids Seal Swim Team (HLHK)

Michigan
Detroit Recreation Swim Team (DRST)

New Jersey
Metro Dynasty Swim Team (MDST)
Newark YMCA Storm (STORM)

New York
FAST Swim Team (FAST)

Ohio
Lake Erie Silver Dolphins (LESD)

Pennsylvania
Pittsburgh Stingrays (PSTR)

St. Lucia
Racers Swim Club (RACER)

Totals: 25 teams | 1,068 swimmers | 6,056 entries

History of the Black History Invitational Swim Meet
This unique event was co-founded in 1987 by the DC Department of Parks and Recreation (DPR) and the United Black Fund, Inc. (UBF) in honor of Black History Month. These two organizations have worked together every year since to produce the first swim meet in the nation to celebrate this important month that higlights the contributions of African Americans to US society.
The invitational was founded with the goals of providing urban youth nationwide with a positive outlet for expression, exposure to strong competition, a forum to meet positive role models, and the opportunity to visit the nation's capital. Since the very first year, DPR and UBF are proud that the Black History Invitational Swim Meet has fulfilled these goals and has grown from a small, local competition to one now hailed by USA Swimming, the national governing body for the sport of swimming, as the "premier minority swim competition in the United States and in the World." During the three-day Invitational, youth athletes ranging in age from 5 – 18 will compete in standard swim events, such as the individual medley, freestyle, butterfly, relays, and back and breast strokes; attracting nearly 800 minority competitors, ages 5–18, from swim teams in Los Angeles, Atlanta, Detroit, Cleveland, New York and other metropolitan areas in the United States.

Past Black History Invitational Swim Meet Honorees
Beginning in 1989, the Black History Invitational Swim Meet Steering Committee has chosen courageous and notable African Americans in history or in the field of swimming whose contributions are known throughout the world to be recognized during the weekend's events.
| Calendar Year | Annual Year | Honorees |
| --- | --- | --- |
| 2016 | 30th | Coach Tommy Jackson, Coach Gary Peterson and Coach Lee Pitts |
| 2015 | 29th | Justin Lynch |
| 2014 | 28th | Coach Russell "Kim" Williams of the Baltimore City Swim Club (BCSC) |
| 2013 | 27th | John Tatum |
| 2012 | 26th | Rodger McCoy |
| 2011 | 25th | Michael Wright and Alana Dillette |
| 2010 | 24th | Maritza Correia, Byron Davis, Sabir Muhammed and David Goggins |
| 2009 | 23rd | Cullen Jones |
| 2008 | 22nd | Bradford A. Tatum |
| 2007 | 21st | Jim Ellis and Frederick Evans II |
| 2006 | 20th | 20th Annual Black History Invitational Swim Meet Committee |
| 2005 | 19th | Chuck Hinton, Fred Lee Valentine, and Mamie |
| 2004 | 18th | Sharon Pratt |
| 2003 | 17th | Dan Knise and Clarence Bishop |
| 2002 | 16th | Dr. William H. Rumsey |
| 2001 | 15th | Dr. Calvin Rolark |
| 2000 | 14th | Eleanor Holmes Norton |
| 1999 | 13th | Walter Washington |
| 1998 | 12th | Dr. Dorothy Height |
| 1997 | 11th | Booker T. Washington |
| 1996 | 10th | Harriet Tubman |
| 1995 | 9th | George Washington Carver |
| 1994 | 8th | Mary McCleod Bethune |
| 1993 | 7th | Benjamin Banneker |
| 1992 | 6th | Sojourner Truth |
| 1991 | 5th | Frederick Douglass |
| 1990 | 4th | Martin Luther King Jr. |
| 1989 * | 3rd | Martin Luther King Jr. |
* 1989 was the first year the BHISM named a specific honoree.