DPR Fitness Centers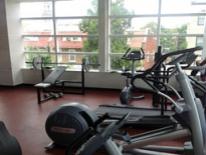 DC Department of Parks and Recreation (DPR) Fitness Centers are maintained by DPR's Sports, Health & Fitness Division. DPR Fitness Centers offer a wide variety of wellness and fitness activities with equipment to maintain or improve your physical fitness.
Fitness Centers feature a variety of equipment including elliptical, stationary bikes, treadmills, free weights (dumbbells and kettlebells), and universal weight machine (leg extentions, leg curls, lat pull downs, seated rows, flat and incline chest press, military press, bicep curls and tricep press downs).
Equipment is offered in the following areas:
Cardio Equipment (CE) : ellipticals, stationary bikes, treadmills, stair climbers,
Strength Training (ST) : universal weight machine, flat / incline benches, leg press, barbells
Mobile Fitness (MO) : dumbbellls, kettlebells, medicine balls, resistence bands
** Fitness Centers will have a majority, if not all, of the equipment in each category.

MEMBERSHIP
All DPR fitness centers require a paid membership for access privileges. There are a variety of memberships offered.
There are 3 categories of memebership: Individual, Family and Senior (55 and over)
There are 4 levels within each category: Daily, Monthly, Quarterly (3 months) and Yearly

DPR FITNESS CENTER LOCATIONS
Ward 1
Columbia Heights Community Center : CE, ST, MO
1480 Girard Street, NW
Washington, DC 20009
(202) 671-0373
Ward 4
Emery Recreation Center : CE, ST, MO
5801 Georgia Avenue, NW
Washington, DC 20011
(202) 576-3211
Lamond Recreation Center : CE, ST, MO
20 Tuckerman Street, NE
Washington, DC 20011
(202) 576-9541

Raymond Recreation Center : CE, ST, MO
3725 10th Street, NW
Washington, DC 20010
(202) 671-2181
Riggs-LaSalle Recreation Center : CE, ST, MO
501 Riggs Road, NE
Washington, DC 20011
(202) 576-5224

Takoma Recreation Center : CE, ST, MO
300 Van Buren Street, NW
Washington, DC 20012
(202) 576-7068

Ward 5

North Michigan Park Recreation Center : CE, ST, MO
1333 Emerson Street, NE
Washington, DC 20017
(202) 541-3526
Trinidad Recreation Center : CE, ST, MO
1310 Childress Street, NE
Washington, DC 20002
(202) 727-1293

Turkey Thicket Recreation Center : CE, MO
1100 Michigan Avenue, NE
Washington, DC 20017
(202) 576-9238

Ward 6

Kennedy Recreation Center : CE, ST, MO
1401 7th Street, NW
Washington, DC 20001
(202) 671-4794

King Greenleaf Recreation Center : CE, ST, MO
201 N Street, SW
Washington, DC 20024
(202) 645-7454

Rosedale Recreation Center : CE, ST, MO
1701 Gales Street, NE
Washington, DC 20002
(202) 258-6149

Sherwood Recreation Center : CE, ST, MO
640 10th Street, NE
Washington, DC 20002
(202) 698-3075

Ward 7

Deanwood Recreation Center : CE, ST, MO
1350 49th Street, NE
Washington, DC 20019
(202) 671-3077

Hillcrest Recreation Center : CE, ST, MO
3100 Denver Street, SE
Washington, DC 20020
(202) 645-9200

Ward 8

Anacostia Recreation Center : CE, ST, MO
1800 Anacostia Drive, SE
Washington, DC 20020
(202) 698-2250

Bald Eagle Recreation Center : CE, ST, MO
100 Joliet Street, SW
Washington, DC 20032
(202) 645-3960

Fort Stanton Recreation Center : CE, ST, MO
1812 Erie Street, SE
Washington, DC 20020
(202) 671-1040