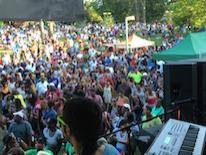 Chuck Brown Day commemorates the life legacy and music of DC legend - the Godfather of Go-Go, Chuck Brown.

The event occurs in the Chuck Brown Memorial Park, which is adjacent to Langdon Park. Chuck Brown Memorial Park features a homage to Brown with a curved, inscribed memorial wall at the entrance of the park, where visitors can learn about his legacy. Visitors can also interact with an interpretive statue of Chuck Brown, play the outdoor toy drums, and visit the central plaza.

Every year, the celebration features musical performances by the Chuck Brown Band and other local Go-Go bands. Bring a blanket or lawn chair for an afternoon of entertainment in honor of the godfather of Go-Go Chuck Brown. Come Get That Go-Go Swing!
The 7th annual Chuck Brown Day will be held on August 21, 2021, at Chuck Brown Memorial Park, located within Langdon Park. View more details here.
For more information, contact [email protected]
Information on Chuck Brown Day for nearby neighbors:
Chuck Brown Day is August 21, 2021, from 2 pm to 7 pm, with setup and tear down happening before and after the event. Here is some helpful information about the impact on the neighborhood:
Traffic and parking will be impacted throughout the neighborhood.
Parking enforcement, Metropolitan Police Department (MPD), and traffic control officers will be in the neighborhood to assist.
The baseball field located at the intersection of 24th Street NE and Franklin Street NE will be made available for attendee parking.
The DC Department of Public Works will be on hand to handle additional waste from the event.
If you are in need of parking enforcement, contact 311. For public safety concerns, contact 911.
Questions regarding the event can be directed to the Department of Parks and Recreation (DPR) Customer Care line at (202) 673-7647 during regular business hours.
This page will be updated as we get closer to August 21, 2021, if there is additional information to share with the community.