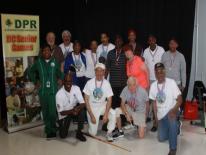 The DC Senior Games is an annual competition, hosted by DPR and sanctioned by the National Senior Games Association (NSGA), which brings together seniors from across the District to participate in athletic activities, thereby promoting healthy living for a longer, more robust life. Each year, the DC Senior Games features activities including: basketball, bowling, horseshoe toss, pickleball, softball, swimming, tennis, track and field.
There's still time to sign up for the 2019 games. Register now!

Click here for a list and schedule of Senior Games events and locations.

For more detailed information on the 2019 Senior Games and to learn how to get involved, please contact Jennifer Hamilton at (202) 664-7153 or [email protected].