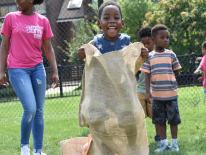 The Department of Parks and Recreation offers a number of activities and programs to enhance the quality of life and wellness of District residents and visitors by building and maintaining safe and beautiful open spaces and recreational amenities and by providing equal access to affordable and quality recreational services, activities and programs. Explore the various DPR programs & activites in the left navigation bar for more information.
DPR encourages and supports participation of individuals with disabilities in all of our programs and services. Please contact DPR customer service at (202) 673-7647 at least two weeks in advance of the start date of a program or activity to request a reasonable modification.

The below links can be used to find the events or programs that are right for you and your family. Please scroll down to learn more about events, search options by age group, or to sign up immediately for a DPR program or free service.