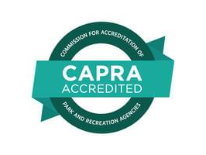 Did you know that the DC Department of Parks and Recreation is an accredited agency?

The Commission for Accreditation of Park and Recreation Agencies (CAPRA) accredits park and recreation agencies for excellence in operation and service.

Accreditation is based on an agency's compliance with the 151 standards for national accreditation. To achieve it, an agency must comply with 100% of the fundamental standards and 90% of the commission's non-fundamental standards.

DPR is proud of our accredited status. And because we are charged with providing high-quality services and experiences, we look to CAPRA as a credible and efficient means of measuring our ability to serve the District while assuring the public that our agency meets national standards of best practice.

Click on the link to learn more about the CAPRA accreditation process.