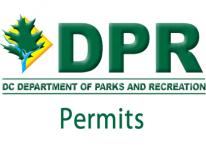 *NEW: DPR is proud to announce a Spring Permits Schedule and a Summer Permits Schedule page. Field permit holders & interested parties can now see information regarding field status. Please note, if a field is showing "no use," you MUST put in a permit application to use the field. Anyone using a field without a permit can be subject to fine(s).

Please email [email protected] should there be any questions or concerns. For immediate field updates/closures, please sign up for our Nixle Alerts.

Thank you!
---
If your organized picnic or activity consists of 10 or more participants, then a DPR permit is required.
Permits General Information
Hours of Operation
Monday – Friday: 9 am – 5 pm
Saturday and Sunday: Closed
Customers who wish to discuss any permit issues (Approval, Denial, Pending Request,) or general questions concerning a permit can schedule a conference by calling (202) 671-2597 or emailing:

[email protected]

.
Please make sure to familiarize yourself with all applicable DPR permits and regulations.
Are you planning a meeting, practice, game or event and need a great location to host your family, friends, associates or co-worker? Look to the wonderful facilities, parks, fields and pools that the DC Department of Parks and Recreation has to offer.
How to Apply for A Permit
If your organized picnic or activity consists of 10 or more participants and you want a guaranteed time and location, then a DPR permit is required.
To apply for a permit, submit your online application via our website: Online Permit Application

Permit requests should be submitted at least 30 days in advance and no later than 10 business days prior to your event. Applications received within less than 10 business days of your event will not be accepted/processed.

Once application is submitted and received by the permit office, a Permit Officer will review and contact the applicant within 10 business days to discuss the event and if further information or documentation is required. At this time, you may be notified if the date, time and space is available;

After all required documents are received, we will issue a notice of availability and an invoice with associated fees and deadline for payment; and

When payment is received along with all required documentation is in order, we will then issue the permit.
Athletic and Aquatic Facility Permits
For information related to aquatic and athletic facility permits please visit the pages listed below.
Permit Fees Schedule
For a list of all DC Parks and Recreation permit fees please visit our DPR Permit Fees Schedule page.
Inclement Weather Hotline
There are multiple ways to receive field closure updates:
Sign up for DPR's Nixle alert system to receive a text message and/or email. Go to http://dpr.dc.gov/page/dpralerts to sign up today!

Call the DPR fields hotline at (202) 671-0331
Permits Frequently Asked Questions
For a list of the permits division's most frequently asked questions, please visit our DPR Permits Frequently Asked Questions (FAQs) page.