Playground Improvement Project Largest in D.C. History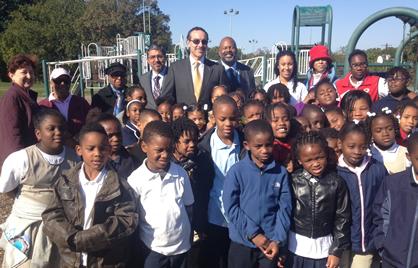 Mayor Vincent C. Gray, DPR Director Jesús Aguirre and DGS Director Brian Hanlon today announced that the District government would be undertaking the largest playground renovation project in its history.
CONTACT:   
Doxie McCoy (EOM) 202.727.9691; [email protected]
John Stokes (DPR) 202.288.7275; [email protected]
 
(WASHINGTON, D.C.) – Mayor Vincent C. Gray, D.C. Department of Parks and Recreation (DPR) Director Jesús Aguirre and Department of General Services (DGS) Director Brian Hanlon today announced that the District government would be undertaking the largest playground renovation project in its history. The announcement was made at Benning Park Recreation Center, one of the sites scheduled to be renovated under the expanded and accelerated Playground Improvement Project.
 
"Improving every resident's quality of life is one of the main goals of my One City Action Plan, and every child in the District should have a safe and inviting place to play," said Mayor Gray. "Renovating these playgrounds is an investment in the well-being of our children that will pay dividends for years to come."
 
As part of his Playground Improvement Project, Mayor Gray tasked DPR with identifying the playgrounds across the city most in need of renovations. Initially this project was to be a multi-year endeavor as the District worked to improve all of the playgrounds in DPR's inventory. However, Mayor Gray prioritized this initiative and worked with his budget team to identify additional end-of-year capital funds to both add additional playgrounds to the project and accelerate the pace of renovations. As a result, a total of 32 playgrounds will now be renovated in Fiscal Year 2013.
 
DPR and DGS conducted an analysis to determine which playgrounds were most in need of renovation and to estimate the number that could be renovated with the new funding.
 
Criteria that were used to determine which playgrounds receive renovations include: 
• Age and condition of existing equipment;
• Internal risk-management audits;
• Community needs;
• Existing usage;
• Existing surfacing;
• Accessibility;
• Area demographics – including trends and forecasts;
• Existing infrastructure (water, electricity, etc.);
• Operations and maintenance requirements; and
• Proximity to other playgrounds/parks.
 
Mayor Gray announced today that the following playgrounds were identified though this analysis and will be renovated through this initiative are:
Ward 1
• Harrison Playground, 1330 V Street NW
• Banneker Playground, 2500 Georgia Avenue NW
 
Ward 2
• Rose Park Playground, 2609 Dumbarton Street NW
 
Ward 3
• Macomb Playground, 3409 Macomb Street NW
• Palisades Playground, 5200 Sherrier Place NW
• Forest Hills Park Playground, 32nd Street NW and Chesapeake Street NW
• Newark Park Playground, 39th Street NW and Newark Street NW
• Key Playground, 5001 Dana Place NW
 
Ward 4
• Takoma Park Playground, 300 Van Buren Street NW
• Emery Playground, 5801 Georgia Avenue, NW
• Upshur Park Playground, 4300 Arkansas Avenue NW
• Fort Stevens Playground, 1327 Van Buren Street, NW
• Hamilton Playground, 1340 Hamilton Street NW
 
Ward 5
• Harry Thomas Sr. Playground, 1743 Lincoln Road NE
• Turkey Thicket Playground, 1100 Michigan Avenue NW
• Brentwood Playground, 2311 14th Street NE
 
Ward 6
• Randall Playground, South Capitol and I Streets SW
• Kennedy Playground, 1401 7th Street NW
 
Ward 7
• Hillcrest Playground, 3100 Denver Street SE
• Benning Park Playground, Southern Avenue & Fable Street SE
• Neval Thomas Playground, 650 Anacostia Avenue NE
 
Ward 8
• Fort Greble Playground, Martin Luther King, Jr. Avenue and Elmira Street SW
• Douglass Playground, 2100 Stanton Terrace SE
• Oxon Run Playground, 6th Street and Mississippi Avenue SE
 
In addition, Mayor Gray's Fiscal Year 2012 and 2013 budgets include capital funding for the renovation of the following eight playgrounds, all of which are already either in the design or construction phase:
 
• Volta Playground, 1555 34th Street NW (Ward 2)
• Raymond Playground, 915 Spring Street NW (Ward 4) 
• Noyes Playground, 2725 10th Street NE (Ward 5)
• Rosedale Playground, 1701 Gales Street NE (Ward 6)
• Benning Stoddert Playground, 100 Stoddert Place SE (Ward 7)
• Barry Farm Playground, 1230 Sumner Road SE (Ward 8)
• Congress Heights Playground, 611 Alabama Avenue SE (Ward 8)
• Fort Stanton Playground, 1800 Erie Street SE (Ward 8)
 
DPR currently operates 78 playgrounds. In recent months several of them have been renovated, including playgrounds in Shaw, Columbia Heights, Bloomingdale, Shepherd Park and Chevy Chase.
 
"DPR is pleased that the District is supporting the renovations of playgrounds across the city," DPR Director Aguirre said. "Play is a fundamental aspect of growth and development for children and youth, and a positive exercise experience leads to avoidance of weight gain, higher self-esteem and reduction of risk factors for disease."
 
Renovations on the initial list of playgrounds are expected to start this fall, with completions during 2013.
 
# # #
 Follow Mayor Gray on Twitter and Facebook.