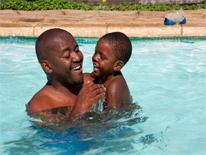 We hope that everyone is enjoying #SummerStrongDC 2017!! When visiting DPR's pools, please remember that proper swim attire is very important. Please view, download and/or print DPR's Swim Attire Requirements poster for clarification around pool wear; and look for this sign in the locker rooms and various pool common areas in our Aquatic facilities. Thank you so much and we hope that you continue to have an amazing summer!!
---
Use of DPR pools is free for all DC Residents. Resident passes are issued on site/at a pool location. Free resident passes are not issued online.
Non-residents must purchase a swim pass and bring their receipt with them to the pool. You may purchase swim passes online (see below), at DPR recreation centers, and onsite at outdoor pools where a DPR smartphone has been issued. DPR accepts Visa, MasterCard, and Discover. Money orders made, payable to "DC Treasurer," are accepted only at DPR recreation centers. DPR is unable to accept cash or personal checks. DPR does not issue any refunds on swim passes.
In order to prevent misuse of swim passes, all one-day swim passes will expire 48 hours after purchasing. Please purchase all passes no more than one day prior to your visit. Note a daily swim pass allows a single guest one entry to a DPR outdoor pool or aquatic center. Repeat entries are not permitted.
Swim pass fees listed below apply to all DPR-managed pools per District of Columbia Municipal Regulations.
Daily Admission Fees
Age
DC Resident

Non-Residents


Children: Under 6 years old
Free
$3
Youth: 6 - 17 years old
Free
$4
Adult
Free
$7
Senior: 55 years old and over
Free
$4
30-Day Swim Pass Fees
Age
DC Resident

Non-Residents


Children: Under 6 years old
Free
$21
Youth: 6 - 17 years old
Free
$31
Adult
Free
$52
Senior: 55 years old and over
Free
$31
90-Day Swim Pass Fees -
Age
DC Resident

Non-Residents


Children: Under 6 years old
Free
$61
Youth: 6 - 17 years old
Free
$91
Adult
Free
$149
Senior: 55 years old and over
Free
$91
Swim Pass Purchase Locations
Deanwood Aquatic Center
1350 49th St, NE
Phone: (202) 671-3078
Hours: Mon–Fri: 6:30 am to 8 pm; Sat–Sun: 9 am to 5 pm
Takoma Aquatic Center
300 Van Buren Street, NW
Phone: (202) 576-9284
Hours: Sun–Sat: 9 am to 5 pm
William H. Rumsey Aquatic Center
635 North Carolina Avenue, SE
Phone: (202) 724-4495
Hours: Mon–Fri: 9 am to 5 pm; Sat: 1 pm to 5 pm; Sun: 10 am to 5 pm
Wilson Aquatic Center
4551 Fort Drive, NW
Phone: (202) 730-0583
Hours: Mon–Fri: 6 am to 9 pm; Sat–Sun: 9 am to 5 pm