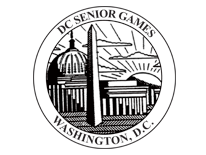 Click here for the 32nd Annual DC Senior Games "Save the Date" flyer.
Please note that the 2015 schedule and information for the DC Senior Games (DCSG) has been updated and is listed below.
The DC Senior Games is an annual competition, hosted by DPR and sanctioned by the National Senior Games Association (NSGA), which brings together seniors from across the District to participate in athletic activities, thereby promoting healthy living for a longer, more robust life. More than 80 athletes competed in last year's 2014 DC Senior Games. Each year, the DC Senior Games features activities including: basketball, bowling, horseshoe toss, pickleball, softball, swimming, tennis, track and field.
32nd Annual DC Senior Games Schedule
Registration opens on Friday, February 20, 2015 and will remain open until Friday, April 24, 2015 at 11:59 pm. Click here to download the registration form.
Opening Ceremony is on Monday, May 4th at the Howard Theatre (620 T St., NW).
The 2015 Senior Games will be held from May 4th - May 15th (scroll down for the full schedule).
Closing Ceremony is on Monday, May 18th, also at the Howard Theatre.

There is a $40 registration fee per athlete. The registration fee includes all entrance fees and a t-shirt. If submitting a paper application, all payments are to be made in the form of a personal check, cashiers check or money order; made payable to "DC Treasurer." If registering online, payment is due at the time of registration via credit card or debit card only.

Last year at the 31st Annual DCSG we added a new, popular sport - Pickleball. We are pleased to announce that pickleball has been permanently added as a DCSG event. Pickleball is a racket sport in which two to four players use solid paddles made of wood or composite materials to hit a polymer perforated ball over a net. The sport shares features of other racket sports, the dimensions and layout of a Badminton court, and a net and rules similar to tennis with a few modifications. One of the fastest growing sports in North America, Pickleball was invented in the mid-1960s as a children's backyard pastime but quickly became popular among adults as a fun game for players of all skill levels.

For more information, please contact Jennifer Hamilton at (202) 664-7153 or [email protected].
Press Release : DPR Opens Registration for the 32nd Annual Senior Games

32nd Annual DC Senior Games Schedule
(Select here to download a printable version)
Monday, May 4th
| Event | Start | End | Location |
| --- | --- | --- | --- |
| Opening Ceremony | 10 am | 12 pm | Howard Theatre (620 T St., NW) |
| 3 on 3 Basketball | 2 pm | 3 pm | Deanwood Rec Ctr (1350 49th St., NE) |
| Free Throw Basketball | 2 pm | 3 pm | Deanwood Rec Ctr |
| Spot Shot Basketball | 2 pm | 3 pm | Deanwood Rec Ctr |
Tuesday, May 5th
| Event | Start | End | Location |
| --- | --- | --- | --- |
| 10K Run | 8 am | 2 pm | Spingarn SHS (2500 Benning Rd., NE) |
| 50m Dash | 9 am | 2 pm | Spingarn SHS |
| 400M | 9:15 am | 2 pm | Spingarn SHS |
| 1500M | 9:30 am | 2 pm | Spingarn SHS |
| Long Jump | 10 am | 2 pm | Spingarn SHS |
| Shot Put | 10 am | 2 pm | Spingarn SHS |
| Softball Throw | 10 am | 2 pm | Spingarn SHS |
| 100M | 10:15 am | 2 pm | Spingarn SHS |
| 5K | 10:30 am | 2 pm | Spingarn SHS |
| Discus | 11 am | 2 pm | Spingarn SHS |
| Football Throw | 11 am | 2 pm | Spingarn SHS |
| 800M Run | 11:15 am | 2 pm | Spingarn SHS |
| Fun Walk | 11:45 am | 2 pm | Spingarn SHS |
| 200M Run | 12 noon | 2 pm | Spingarn SHS |
| 1500M Race Walk | 12:30 pm | 2 pm | Spingarn SHS |
Wednesday, May 6th
| Event | Start | End | Location |
| --- | --- | --- | --- |
| Swimming Warm Up | 8 am | 9 am | Takoma Aquatic Ctr (300 Van Buren St., NW) |
| 500 Yard Freestyle | 9 am | 1 pm | Takoma Aquatic Ctr |
| 25 Yard Freestyle | 9 am | 1 pm | Takoma Aquatic Ctr |
| 200 Yard Butterfly | 9 am | 1 pm | Takoma Aquatic Ctr |
| 25 Butterfly | 9 am | 1 pm | Takoma Aquatic Ctr |
| 200 Yard Backstroke | 9 am | 1 pm | Takoma Aquatic Ctr |
Thursday, May 7th
| Event | Start | End | Location |
| --- | --- | --- | --- |
| Swimming Warm-Up | 8 am | 9 am | Takoma Aquatic Ctr |
| 100 Yard Breaststroke | 9 am | 1 pm | Takoma Aquatic Ctr |
| 25 Yard Backstroke | 9 am | 1 pm | Takoma Aquatic Ctr |
| 200 Yard Freestyle | 9 am | 1 pm | Takoma Aquatic Ctr |
| 25 Yard Butterfly | 9 am | 1 pm | Takoma Aquatic Ctr |
| 100 Yard Freestyle Relay | 9 am | 1 pm | Takoma Aquatic Ctr |
| 100 Yard Backstroke | 9 am | 1 pm | Takoma Aquatic Ctr |
| 25 Yard Breaststroke | 9 am | 1 pm | Takoma Aquatic Ctr |
| 200 Yard Individual Medley | 9 am | 1 pm | Takoma Aquatic Ctr |
| 50 Yard Butterfly | 9 am | 1 pm | Takoma Aquatic Ctr |
| 200 Yard Medley Relay | 9 am | 1 pm | Takoma Aquatic Ctr |
Friday, May 8th
| Event | Start | End | Location |
| --- | --- | --- | --- |
| Swimming Warm Up | 8 am | 9 am | Takoma Aquatic Ctr |
| 100 Yard Freestyle | 9 am | 1 pm | Takoma Aquatic Ctr |
| 25 Yard Backstroke | 9 am | 1 pm | Takoma Aquatic Ctr |
| 50 Yard Breaststroke | 9 am | 1 pm | Takoma Aquatic Ctr |
| 25 Yard Freestyle | 9 am | 1 pm | Takoma Aquatic Ctr |
| 100 Yard Individual Medley | 9 am | 1 pm | Takoma Aquatic Ctr |
| 200 Yard Freestyle Relay | 9 am | 1 pm | Takoma Aquatic Ctr |
| 100 Yard Butterfly | 9 am | 1 pm | Takoma Aquatic Ctr |
| 50 Yard Freestyle | 9 am | 1 pm | Takoma Aquatic Ctr |
| 200 Yard Breaststroke | 9 am | 1 pm | Takoma Aquatic Ctr |
| 100 Yard Medley Relay | 9 am | 1 pm | Takoma Aquatic Ctr |
*No Games are held Saturday, May 9th & Sunday, May 10th
Monday, May 11th
| Event | Start | End | Location |
| --- | --- | --- | --- |
| Billards - 8 Ball | 10 am | 2 pm | Kennedy Rec Ctr (1401 7th St., NW) |
| Table Tennis | 10 am | 2 pm | Kennedy Rec Ctr |
| Horseshoe Pitch | 10 am | 2 pm | Langdon Park Comm Ctr (2901 20th St., NE) |
| Softball (2 games) | 2 pm | 6 pm | Deanwood Rec Ctr |
| Bowling - Singles | 2 pm | 5 pm | Capital Plaza Bowl (4601 Cooper Ln, Hyatts.) |
Tuesday, May 12th
| Event | Start | End | Location |
| --- | --- | --- | --- |
| Singles Tennis | 9 am | 5 pm | Theodore Hagans Ctr (3201 Ft. Lincoln Dr., NE) |
| Softball (3 games) | 10 am | 4 pm | Deanwood Rec Ctr |
| Bowling - Doubles | 2 pm | 5 pm | Capital Plaza Bowl |
Wednesday, May 13th
| Event | Start | End | Location |
| --- | --- | --- | --- |
| Pickleball | 10 am | 1 pm | Emery Rec Ctr (5801 Georgia Ave., NW) |
| Bowling - Mixed | 2 pm | 5 pm | Capital Plaza Bowl |
Thursday, May 14th
| Event | Start | End | Location |
| --- | --- | --- | --- |
| Softball (4 games) | 10 am | 6 pm | Deanwood Rec Ctr |
Friday, May 15th
| Event | Start | End | Location |
| --- | --- | --- | --- |
| Doubles Tennis | 9 am | 5 pm | Theodore Hagans Ctr |
*No Games are held Saturday, May 16th & Sunday, May 17th
Monday, May 18th
| Event | Start | End | Location |
| --- | --- | --- | --- |
| Closing Ceremony | 10 am | 2 pm | Howard Theatre |