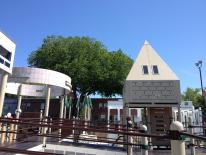 Status: Completed
Rosedale playground, located at 1701 Gales Street NE, is the District's first fully inclusive playground that gives children of all abilities the opportunity to play and learn together. Ramps are wide enough for two wheelchairs to manuever side by side and special equipment includes wheelchair accesible swings and slides. The playground equipment is designed with a National Mall theme that includes the Capitol, White House and other DC landmarks. A shaded pavillion area is also available where parents and children can take a break. The play space was constructed as part of a full site renovation at Rosedale, which began in 2009. DPR and DGS announced the opening of the play space on May 31, 2013.
What's New?
Everything! Most importantly, Rosedale is an inclusive playground. What's an inclusive playground? A playground designed to further physical, cognitive, sensory, and social skills. The site and equipment are accessible for children and caregivers of all abilities. Features include:
National Mall-themed play equipment. This custom equipment was designed especially for Rosedale, and elements include the White House, the US Capitol, the Lincoln Memorial, the Hirshhorn Museum, the Washington Monument, the Martin Luther King Jr. Memorial, the Natural History Museum, and the Air and Space Museum.
Ramped access to the play equipment. The ramps are wide enough to allow two wheelchairs to pass each other or travel through the equipment together.
Seating within the play equipment to allow caregivers or children to rest when needed.
Sensory elements such as finger mazes, musical instruments, talk tubes, a sensory wall, and more. There are also quiet places for imaginary play for children who may prefer less stimulus.
The Omni Spinner is a high-backed version of a Merry-Go-Round and allows children to be transferred into the equipment from a wheelchair or walker. The Spinner is good for sensory play, social skills, and team work.
The Sway Fun Glider has room for two wheelchairs, plus two large benches for other passengers.
Slides, overhead activities, and climbing features are located throughout the equipment.
New signs, water fountains, and shade structure, with accessible picnic tables underneath, perfect for family gatherings.
The main parking lot features new ADA accessible parking spaces.
Coming Soon
While most of the site is complete, there are a few more features coming soon:
Expanded parking at Gibbs Elementary at 19th Street NE and E Street NE.
Interpretive panels about each of the monumental features. The panels will include a description of the monuments in English and Braille, and will include "push to talk" buttons to hear the same descriptions in the following languages: English, Spanish, Amharic, Vietnamese, Chinese, French, and Korean.
How You'll Move Grow and Be Green
No matter your age or ability, you'll be able to MOVE throughout the entire Rosedale site: wheelchairs can be accommodated on all of the equipment, kids can flex muscles climbing onto the structures, and a new surface provides comfort as kids (and adults!) of all ages enjoy the site. Fun facts about all of the monuments will help you GROW in your knowledge of the National Mall. When you picnic with your family, you can help us BE GREEN by recycling!
Stay in the Loop