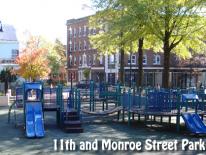 The Department of Parks and Recreation (DPR) has renovated the park at 11th and Monroe Streets, NW.
The new park will feature a new playground with rubber safety surface; new plaza; landscaping; water fountain; and game tables.
Schedule and Status
Construction will start in August 2011 and be complete in Fall 2011.
Project at a Glance
Project Title: 11th and Monroe Street Park Renovation
Office: Office of Planning and Capital Projects
Status: Progress
Type: Renovation/Modernization
Location: 11th and Monroe St. NW
Goal/Milestones
Project Approval - March 2011
Construction Begins - August 2011
Expected Completion Date - November 2011