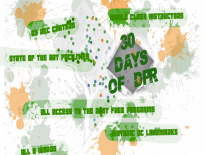 Acting Director Delano Hunter is embarking on a social media tour highlighting everything that DPR has to offer!
From January 1st through January 31st, the 30 Days of DPR campaign will bring Acting Director Hunter to all 63 agency-controlled recreation centers throughout the District.
A production crew will follow him to each site to capture content as he engages with residents, drops in on fun acitivities and programs, and shows the audience why DPR is "where fun happens."

"30 Days of DPR is a great way for the agency to tell its story and for me to reach out to the people behind the story and around the story," said Acting Director Hunter. "January is the perfect time to connect with residents looking to try new things in the new year, we will give the District a taste of what DPR has to offer its neighbors."
This tour will showcase the new acting director doing everything from boxing at Bald Eagle, fencing at Chevy Chase, sewing at Southeast Tennis and Learning Center, to fitness boot camp at Banneker Recreation Center.

The 30 Days of DPR production team will will package this content for release on social media and broadcast the best parts live via Twitter, Instagram, and Facebook. If you'd like to be there to be a part of the action, check out the below schedule and be sure to FOLLOW US @DCDPR on Twitter, Facebook, and Instagram, as well as follow the #30daysofDPR.

Check in with us daily to see when we pop into a rec center in your backyard!

30 Days of DPR - Recreation Center Visit Schedule:
Ward 6
FRI 1/4 – Randall, Arthur Capper, Rosedale

Ward 8
FRI 1/11 – Ft Stanton, Ferebee Hope,
SAT 1/12 – Barry Farms, Bald Eagle, SETLC, Malcolm X

Ward 2
FRI 1/18 – Harrison, Kalorama, Marie Reed
Banneker, Columbia Heights, Park View
Ward 7
SAT 1/19 – Hillcrest, Kenilworth, Ridge Road, Deanwood
Ft Davis, Benning Park, Benning Stoddert, Marvin Gaye
Ward 4
WED 1/23 – Emery, Ft Stevens, Raymond, Takoma
Hamilton, Lafayette, Lamond, Petworth, Riggs LaSalle, Upshur

Ward 3
THU 1/24 – Friendship, Glover Park, Hardy, Hearst, Macomb
Chevy Chase, Guy Mason, Palisades

Ward 5
FRI 1/25 – Brentwood, Theodore Hagans, Edgewood, Trinidad, Joe Cole, North Michigan
SAT 1/26 – Arboretum, Langdon, Turkey Thicket


Ward 1
MON 1/28 – Parkview, Columbia Heights, Banneker, Kalorama, Marie Reed, Harrison

To view the tour, simply follow @DCDPR on Twitter, Facebook, and Instagram, as well as follow the #30daysofDPR.