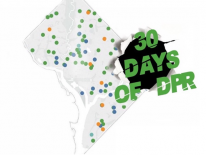 In January, DPR Acting Director, Delano Hunter embarked on a social media campaign called #30DaysofDPR. The goal was to visit all 63 of the agency's active recreation facilities across the District and highlight the programs, activities, and people who make our centers so special.
A camera crew tagged along and footage was taken from all 8 wards and then broken up into highlights for each.

Take a moment to check out the best video from our District-wide recreation tour and get a taste what DPR has to offer in your backyard.
Ward 6
Ward 8
Ward 2
Ward 7
Ward 3
Ward 5
Ward 4
Ward 1