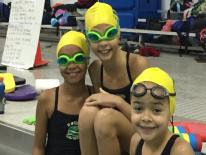 Learning to swim and getting comfortable playing in water is extremely beneficial to children at a young age. Being a strong swimmer and developing good water techniques can open many doors later in life. Also, the skills your child learns could one day save his or her life.
Scroll through the links below to sign up today.
Learn to Swim (Levels 1, 2, 3 & 4)
DC Wave Summer Enrichment Program
DC Wave Swim Team
DC Summer Swim League
Lifeguard Training Academy
(Private Swim Lessons are also available for teens who wish to get more focused, 1 on 1 aquatic training)
Visit our Registration Portal to sign up for teens aquatics programs now.

DPR Aquatic Facilities and Programs are free to all D.C. residents and can be accessed by non-residents who obtain an aquatics pass.

Check out the Pool Admittance Rules, Attire Requirements and Safety Parameters here.