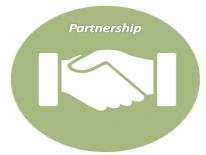 Use the links and the descriptions below to decide which partnership category best suits you and/or your group.
There are five different ways to partner with DPR.

If your group or organization would like to apply for partnership with DPR, please complete the on-line DPR Partnership Application. As part of this application, please include a description of the proposed partnership, a copy of your mission statement and a brief summary of services. Please note, all DPR partner programs must be offered free of charge We will review this application and someone from our Partnerships & Development staff will follow up with you.
For additional questions about partnerships, please contact us via e-mail at [email protected]