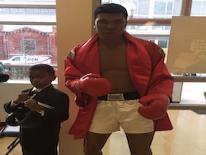 The annual Blacks in Wax performances are a collaboration by the DC Department of Parks and Recreation (DPR), Recreation Wish List Committee (RWLC) founded by Ms. Cora Masters Barry, along with the Southeast Tennis and Learning Center (SETLC) tennis scholars. The event celebrates the rich history and culture of over 60 prolific, iconic American heroes from the worlds of sports, entertainment, history, politics and literature.
What started as an alternative method for educating youth about African-American history has become one of most successful DPR programs. Each vignette is an awe inspiring portrayal of historical, familiar and contemporary characters. SETLC scholars portray characters from abolitionist and humanitarian Harriet Tubman to the King of Pop Michael Jackson.

Other famous new portrayals include: Janelle Monae, Colin Kaepernick, Common, New Edition and more. The Blacks in Wax production educates and entertains all ages through the arts. Combining drama, music, dance and theater, the SETLC youth bring African-American and world history to life for school groups, family and friends, and theater patrons.