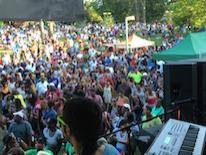 Chuck Brown Day commemorates the life legacy and music of DC legend - the Godfather of Go-Go, Chuck Brown.

The event occurs in the Chuck Brown Memorial Park. The park features a homage to Brown with a curved, inscribed memorial wall at the entrance of the park, where visitors can learn more about his legacy. Visitors can play the outdoor toy drums; visit a central plaza, which can be used for entertainment; and benefit from the further renovations to the surrounding park.

Every year, the celebration features musical performances by the Chuck Brown Band and other local Go-Go bands. Bring a blanket or lawn chair for an afternoon of entertainment in honor of the godfather of Go-Go Chuck Brown. Come Get That Go-Go Swing!
5th Annual Chuck Brown Day

Date: August 12, 2019
Time: 2pm - 7pm
Location: Chuck Brown Memorial Park | 20th and Franklin Streets, NE
#ChuckBrownDay

For more information, contact [email protected]