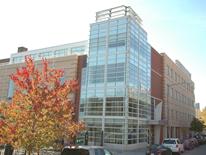 Description
The Columbia Heights Community Center is a full service facility that serves constituents from toddlers to seniors. The 4-story building is equipped with specialized program areas such as a dance studio, arts & craft room, a recording studio, fitness room, computer lab, multi-purpose room and gymnasium. Outdoor amenties include a newly renovated playground (in 2015), a very popular community garden, an outdoor basketball court, outdoor chess/checker tables and a shaded pavilion.
The 4th floor is dedicated to the DPR's Camps, Co-op and Sports office staff.

Programs at Columbia Heights Community Center are facilitated by site staff as well as contractors with specialized skills and certifications.
Please note, a valid, government-issued photo ID (driver's/non-driver's license or passport) is required to enter all DPR facilities.
Please note that an approved and paid DPR permit is required for any and all events held at a DPR location (including center, parks, playgrounds, fields, etc.).
Facility Type:
Recreation Center
Address:
1480 Girard Street, NW
Ward:
1
Phone:
(202) 671-0373
Hours of Operation:
Mon - Fri: 9 am - 9 pm
Sat: 10 am - 4 pm
Closed Sun
Contact:
Glen Reynoso
| | |
| --- | --- |
| ADA Accessible: | Yes |
| ID Required: | Yes |
| Senior Programs Offered: | Yes |
Program Information
Amenities & Features
Indoors
- Computer Lab
- Dance Studio
- Fitness Center
- Gymnasium / Indoor Basketball Court
- Multi-purpose room
- Recording / Sound Studio
- Video Studio

Outdoors
- Outdoor Basketball Court
- Playground
- Spray Park

---
Photo Gallery & Events
Coming Soon! - Photo Gallery * All DPR Events * Events at Columbia Heights CC

If you are interested in holding an event or meeting at this location, please fill out DPR's permit application. Permits are required for any field or room use, events, parties, community meetings, etc. Please note, that there are associated fees and requirements
---
Community Recreation Division
Columbia Heights Community Center
1480 Girard Street, NW, 4th Floor
Washington, DC 20009