Welcome to the DC Wave Swim Team Tryout and Registration Information Page. Below you will find information regarding tryouts and registration for the 2021-2022 season. For additional questions please email Head Coach Robert Green.
Every Olympic Cycle we review our program and curriculum and seek to make enhancements that will help position our swimmers for future success in the next quad (2020-2024). Below are our updated training groups for this coming season and a link to the practice schedule for each group.
The Developmental Level is generally for first-year swimmers proficient in at least three out of the four competitive strokes (Freestyle, Backstroke, Breaststroke, Butterfly). Training and competition will focus on IMR events with the end of season goal to become legal in all four strokes as well as the IM.

Developmental 1 (10 & Under)
Developmental 2 (11 & 12)
Developmental 3 (13 & Older)

The Age Group Level is generally for swimmers who are proficient in all four strokes and the IM. Training and competition will focus on IMX events, as well as achieving USA Swimming motivational time standards.

Age Group 1 (8-10 years old)
Age Group 2 (11-13 years old)
Age Group 3 (14 & Older) [Formerly referred to as High School Prep]

The National Level is for experienced competitive swimmers who have achieved USA Swimming time standards and/or our team time standards. Training and competition focus on qualifying for Potomac Valley Swimming Championships and/or National Level Competitions.

National Development Group [Formerly referred to as Age Group 3/Select]
National Prep Group [Formerly referred to as Pre-Senior]
National Team [Formerly referred to as Senior]
---
Registration for Returning Team Members
Registration for returning team members (2019-2020 and 2020-2021 seasons) opens on August 1st at www.dprprograms.com and will close on September 1. Any remaining spots in our training groups will be reserved for new swimmers after tryouts have ended.
We ask that you register your swimmer for the training group they were in during the 2019-2020 season if they did not swim with us this past season or the group they are currently in if they are currently training with the team. If you are unclear about which group to register for please reach out to your swimmer's primary coach directly for confirmation.
---
NEW SWIMMER TRYOUTS
Tryouts for new team members are available September 7-10 at the William H. Rumsey Aquatic Center, and the Wilson Aquatic Center. Swimmers who are recommended for the swim team will receive instructions on how to register for the team at the conclusion of each tryout session. Swimmers must be registered for tryouts in advance in order to be assessed by one of our coaches. There is no cost to tryout. You can register your swimmer for tryouts online at www.dcwaveswimteam.com underneath the Team Events section.
There are a limited number of spots in each of our training groups and as such, successful completion of tryouts does not always guarantee your swimmer a spot on the team.
12 & Under Tryouts | Tuesday, September 7 & Friday, September 10
13 & Older Tryouts | Wednesday, September 8 & Thursday, September 9
Tryouts for the DC Wave Swim Team are for Developmental and Age Group Levels ONLY. Please only register for one tryout session. Should you need to change your reservation for any reason please email [email protected].
Individuals looking to train with our National Level training groups should have achieved times in competition equal to or better than the Pre-Senior/Senior Training Group Time Standards. Interested swimmers should email Head Coach Robert Green with the following information:
Swimmer's Name
Swimmer's Age and DOB
School
Current year in HS
Previous club team
Best times
Goals for this season and long term swimming goals
---
REGISTRATION FEES
The DC Wave Swim Team is owned and operated by the DC Department of Parks and Recreation Aquatics Division (DPR Aquatics), and has partnered with the DC Wave Booster Club to provide our swimmers with an exceptional competitive swimming experience, rivaling that of a private team or club. DPR covers the cost of coaches' salaries, pool time, pool equipment, and athlete, coach, and club registration with USA Swimming.
The DC Wave Booster Club is the team's administrative and financial arm. The Booster Club ensures that swimmers are outfitted with swim caps, competition suits, team apparel, covers upfront club costs for entering swim meets, arranges travel and hotel accommodations for travel meets, hosts team events and fundraisers for our swimmers, and organizes and supports our volunteers for swim meets.
Both organizations require a registration fee from families to secure your spot on the team and to cover the cost of providing all of these services to our membership. USA Swimming rules prohibit non-USA Swimming members from practicing with USA Swimming Clubs and Teams. For this reason, swimmers must be registered with DPR for the DC Wave Swim Team prior to participating in any team activities, including practices. Below is the updated price sheet for each training group on the team. Payment plans are now available for both the DPR registration fee as well as the Booster Club fee.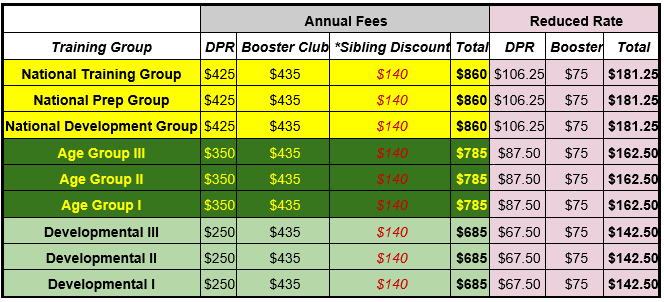 REDUCED REGISTRATION FEE GUIDELINES
If the registration fee for DC Wave Swim Team is cost-prohibitive for participation, DPR offers fee reduction for those families that qualify. Fee reduction requests must be received at the time of registration in order to qualify. Non-DC residents are not eligible for DPR fee assistance.
If your family has an existing account with DPR and has already qualified for a reduction of fees for other DPR programs and services, an invoice from that program verifying that your family has received a reduction in fees will suffice. All accounts with DPR must be current and have a zero balance at the time of registration. Qualifying individuals can receive up to 75% off of program registration fees.
Proof of DC Residency and eligibility for the following government assistance programs are required to receive the discounted rate:
Accepted Forms of Proof of Residency:
Valid DC Government-issued driver's license or photo ID
Pay Stub (no older than 45 days)
Utility bill (gas, electric, or water within the last 60 days)
Unexpired DC Motor Vehicle Registration
Unexpired lease or rental agreement
A notarized letter signed by the persons with whom you reside. The letter should include your name, your child(ren), and address, AND two pieces of mail with your current name, address, and date, must accompany a notarized letter.