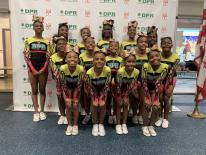 The DC Department of Parks and Recreation is proud to announce that our homegrown, DPR Elite Starz Cheer team has taken home the top prize at the U.S. Finals Cheer and Dance "Champions Challenge."
The Elite Starz was created in the 2018, with its participants coming from DPR cheer and dance programs throughout the city to build the agency's first competitive traveling team.
The cheer division held bootcamp training for the participants to select the top athletes to represent DPR. The team consists of eighteen young ladies, nine coaches and a gymnastics instructor.
DPR Elite Starz has also won or placed in competitions in Pocono Manor, PA, Belair, MD, Raleigh, NC, as well as many in the District of Columbia. What a tremendous honor!
DPR Elite Starz coaches include:
K'Yanna Blackwell
Shequana Burnett
Nakia Longerbeam
Kimberly Pinkney
Hope Taylor
Djakarta Overton
Mundi Nettles
Melissa Green-Peterson
Joe Queen (Gymnastics Coach)
For more information about cheer and dance programs contact [email protected]