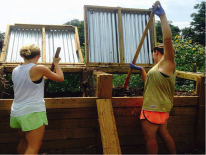 DPR's Urban Gardens Division - Fall Urban Master Composter Certificate Course will train future compost leaders in DC in a variety of composting methods appropriate for urban environments. This short course will focus 100% on multiple urban composting systems that are critter proof, environmentally responsible, free of any foul odors and functioning right now in DC. Learn the best practices and knowledge to set up each of these systems in any DC environment from the people who are leading DPR's responsible composting movement. Then join the movement. Help us make urban composting responsible. To check registration, please visit DPR's Urban Gardens Workshop Series registration page.
Course Topics include:
Community Composting Models and Intro to Science of Composting
Compost Carpentry and Tools
Urban Composting Best Practices
3-Bin Community Composting Cooperatives
Compost Youth Education and Adult Outreach
Building Piles with Active Aeration and Bio-Filters
Compost Innovations
Bokashi Composting
Testing and Applying Compost
Vermicompost
This course is an 10 class, approximately 30 hour course with a volunteer requirement to receive a Urban Master Composter Certificate. Please note that participants are required to take all course classes. Failure to attend all 10 classes may result in being dropped from the course and not receiving a DPR Urban Master Composter certificate.
For more information, contact DPR's Community Garden Specialist Josh Singer at [email protected].