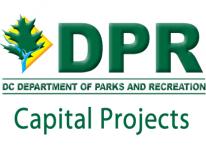 The DC Department of Parks and Recreation (DPR) Chevy Chase dog park project at 41st Street and Livingston Street, NW, is a partnership between DPR and a non-profit organization of Ward 3 Residents.
The Chevy Chase Dog Park Application seeks to establish a 6,000 square-foot off-leash public dog park at Chevy Chase Park, located 41st and Livingston Streets, NW. The future dog park will be able to handle approximately 35 dogs.
Interested parties wishing to review the application can do so by selecting the "Chevy Chase Dog Park - Application" under Related Documents or by visiting the Department of Parks and Recreation (DPR), 3149 16th Street, NW, First Floor. The public comment period closed on October 24, 2010.
For more information or to submit your comments, contact DPR at (202) 671-0421 or email dp[email protected].
Office : Office of Planning and Capital Projects
Goal/Milestones :
Project Approval—TBD
Construction Began—TBD
Construction Completed—TBD