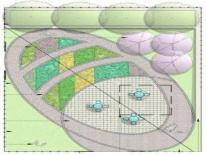 The DC Department of Parks and Recreation (DPR) has undertaken the redevelopment of the French Street Park located at 10th and French Streets, NW, to provide new recreational opportunities, improve the physical and visual appearance of the park, and enhance the overall enjoyment of this park by the community.
The French Street Park was originally designed and constructed in the early 1970s. The Brutalist design elements -- the use of exposed or "raw concrete" -- within the site were popular during the 1970s are today considered unattractive, uncomfortable and, in some cases, even unsafe.
Recent resurgence and residential development has created additional need for improved park space. In early 2007 DPR conducted several community meetings to explore the community's needs and desires for this space and, based upon this community input, developed a new design for the park.
Other features of the new design include:
Community patio
Mature trees retained at alley
Ares for community garden plots
New level paths and lawn replace existing large concrete structures
New permeable pavers used throughout the park for improved drainage
Schedule and Status
The existing park is currently under demolition in preparation for construction.
Office : Office of Planning and Capital Projects
Address : 10th and French Streets, NW
Goal/Milestones :
Project Approval—Completed
Construction Began—TBD
Construction Completed—TBD