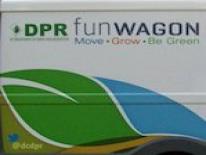 DC Parks and Recreation's Fun Wagon will travel throughout the District and DPR camps this year during the summer months of June through September and some special events.

Everywhere the Fun Wagon goes, it brings with it an abundant supply of jump ropes, hula hoops, skates, scooters, bikes, and basketballs that quickly turn any playground into a mini-amusement park.

Be sure to check out the Full Schedule to see when the Fun Wagon pops up near you.
---
Contact:
DPR Roving Leaders
Phone: (202) 698-2250