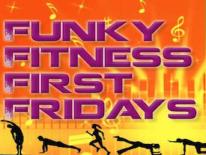 On select first Fridays throughout the year, DPR will showcase various instructor led fitness activities with funky music, healthy food and fun.
Bring your work out gear and train with DPR for FREE.
Activities will include: zumba, bootcamp, yoga, tai-chi or water aerobics, activities for children, healthy food options, cooking demonstrations and giveaways.
2018 Schedule (6pm-8:30pm)
February 23, 2018
Banneker Recreation Center
2500 Georgia Ave. NW

March 9, 2018
TBD

April 13, 2018
Marie Reed Recreation Center
2200 Champlain Street, NW

Check in regurarly for new Funky Fitness Friday sessions times. To register, visit DPR.Event