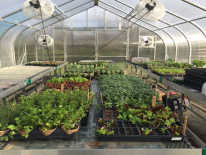 DPR's Urban Garden division has built and renovated 4 greenhouses across the District to be managed as greenhouse coops for non-profits and volunteers to grow seedlings for non-profit purposes. In exchange for greenhouse growing space, each member is responsible for donating seedlings and help with free public programming for DPR's programs and community.

If you are a part of a non-profit organization, school garden or not for profit community project looking to get involved, please contact: [email protected] (202) 262-2138
Follow us on Social Media
facebook.com/dprurbangardens
instagram.com/dprurbangardens
Want to Receive Monthly Updates for DPR Programs?
DPR's Urban Garden Division partners with the DUG Network to do a semi-monthly (twice a month around the 1st and 15th) newsletter that highlights all DPR programs and registration openings along with other urban Ag, food security and environmental programs, workshops, job openings, grants, tips, etc, in greater DC. To view past newsletters or to sign up for future newsletters please visit this link or email [email protected].
The DUG Network website also has a searchable database of over 500 organizations working in DC in urban Ag, food security, and environmental programs along with many other resources.