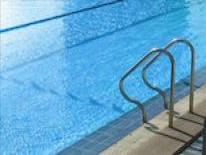 Named "One of the Best Public Pools" by the "Wahington City Paper", Harry Thomas Sr. Pool is a hidden gem in Ward 5. This pool offers residents a place to cool out during the summer season.
General Information
Address:

1743 Lincoln Road, NE

Ward:

5

Nearest Metro:

New York Avenue-Gallaudet University (Red)

Parking:
Parking Lot available from First Street, NE
Hours of Operation:

Mon, Wed, Thurs & Fri: 10 am - 8 pm
Sat & Sun: 11 am - 6 pm
Lap Swim: Mon, Wed, Thurs & Fri: 8 am - 10 am
(Closed Tuesdays)

Contact:

Direct: (202) 541-7499

Aquatics HQ: (202) 671-1289
Amenities
Outdoor Pool
Children's Wading Pool
Services and Programs
Please note, a valid, government-issued photo ID (driver's/non-driver's license or passport) is required to enter all DPR aquatic facilities.