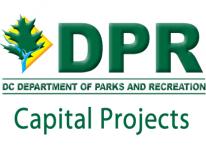 The DPR Lansburgh Dog Park project Delaware Avenue between I Street and M Street in Southwest DC is a 15,000 square foot partnership project between DPR and Paws of Southwest.
The proposed application seeks to install and operate a dog park up to 15,000 square-feet at Lansburgh Park. The proposed site is located in the southwest corner of the park, on the boundary of the park that is adjacent to the District's Department of Motor Vehicle Inspection Station.
The public comment period ended on June 11, 2012. The application and public remarks are currently under review.
Office : Office of Planning and Capital Projects
Address : Delaware Ave & I St, SW
Goal/Milestones :
Public Comment Period—Ends June 11, 2012
Project Approval—TBD
Construction Start Date—TBD