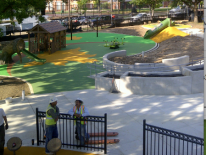 Status: Completed
The play space at Takoma is located at 300 Van Buren Street, NW in Ward 4. The outdoor play area is adjacent to a field house and across the street from the aquatic center. The site currently features play equipment, fields, and sport courts.
Timeline
First community meeting: November 19, 2012
Second community meeting: December 10, 2012
Pre-construction meeting: April 24, 2013 from 7–8:30 pm at Takoma Recreation Center (300 Van Buren Street, NW)
Groundbreaking event: April 25, 2013
Construction start date: April 25, 2013
Completion date: August 22, 2013
Ribbon-cutting ceremony: None
What's New?
The concept for the new place space at Takoma creates new and exciting opportunities for play and takes advantage of some of the natural topography on the site. New features include a small splash park, skate spot, and area for manipulative play—play using moveable blocks or other structures. The existing play equipment will also be replaced, and new seating and shade features will be added.
How You'll Move, Grow and Be Green
You'll really be able to MOVE in the new skate spot. The imaginative play area will challenge you to GROW as you construct whatever your mind dreams up. New erosion control and storm water management techniques at Takoma allow us to BE GREEN and keep the park nice!
Nearby Playgrounds
Lamond - 20 Tuckerman Street, NE (0.7 miles away)
Fort Stevens - 1327 Van Buren Street, NW (0.9 miles away) - This park will be under construction this year.
Pardon Our Dust
Playground and field house will be closed during construction.
Remainder of site will be open.
Stay in the Loop with the Office of Planning and Capital Projects
Phone: (202) 673-7647
Email: [email protected]
On Twitter: Use the hashtag #PlayDC 
Playground Address: 300 Van Buren Street, NW