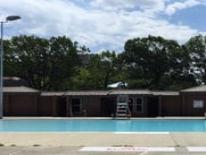 Just off South Capitol Street, this quaint little pool offers residents a place to cool off during the summer months and a scenic view of our Nation's Capitol.
General Information
*Randall Pool will open for the season on Saturday, May 26, 2018, at 11 am.
*Please note that pools will operate on a weekend-only schedule until June 17, 2018.
Address:
25 I Street, SW
Ward:
6
Nearest Metro:
Navy Yard Metro Station (Green)
Parking:
Street Metered Parking Available
Hours of Operation:

Mon, Tues, Thurs & Fri: 11 am - 8 pm
Sat & Sun: 11 am - 6 pm
(Closed Wednesdays)

Contact:
Direct: (202) 727-1420
Aquatic AQ: (202) 671-1289
Email: Customer Service
Amenities
Services and Programs