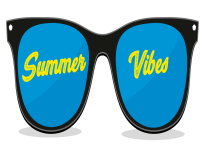 Welcome to summer in the District!
For months, the staff at DPR has been preparing and we are excited to make summer 2022 one that you will never forget.
This year, we've taken our many offerings, programs, and events and organized them into fun categories so that our residents can always find the type of experience they're looking for.
Check out our events page where you'll find Pool Vibes that will give your family a chance to cool off in the summer heat, Community Vibes that feature hyper-local events that engage youth and connect you with your neighbors, Platinum Vibes for our fun-loving, active senior residents, and Culture Vibes that include a variety of pop-up music performances and our signature Chuck Brown Day go go festival.
No matter what vibe you're looking for, you can catch it with DPR. Follow us @DCDPR on social media and make sure you don't miss the next good time.
And remember, summer isn't a season, it's a Vibe.