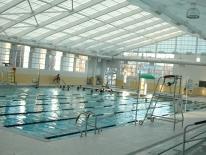 *NEWS - Turkey Thicket is open
Indoor Pool Closure Notice
Turkey Thicket Closed from Feb. 9 - 29:
Turkey Thicket Aquatic Center | 1100 Michigan Ave., NE | Ward 5
Closure to begin Sunday, February 9 and last through Saturday, February 29, 2020.
The facility is expected to reopen on Monday, March 2, 2020.
Several of DPR's indoor aquatic centers will undergo scheduled preventative maintenance to deep clean their respective pools and facilities.
In partnership with the Department of General Services (DGS), the closure periods include pool drainage, water circulatory system repair, chemical controller service, and outstanding work order abatement.
Pools at Dunbar, Ferebee Hope, HD Woodson, Marie Reed and the Therapeutic Aquatic Center will remain open for the duration of this winter's maintenance schedule.
During each closure, all programs, permits and classes will be suspended at that particular facility. Please contact DPR at (202) 673-7647 if you have any questions or require further assistance.
__________________________________________________
The Turkey Thicket Aquatic Center is one of DPR's premier indoor aquatic centers.
Located in the heart of the Brookland neighborhood, this center offers regular "Learn to Swim" classes for youth, adults and seniors; water aerobics classes and lifeguard training. The pool offers a six (6) lane, 25-yard configuration and is located within the Turkey Thicket Recreation Center.

General Information
Address:
1100 Michigan Avenue, NE
Ward:
5
Nearest Metro:
Brookland-CUA (Red)
Parking:
Parking lot accessible from Michigan Ave.
Hours of Operation:
Mon - Fri: 6:30 am - 8 pm
Sat: 9 am - 5 pm
Sun: Closed
Turkey Thicket Lap Lane Schedule
Contact:

Direct: (202) 576-9235

Aquatics HQ: (202) 671-1289
Amenities
Indoor Pool
Children's Pool
Feature: Pool is located within Turkey Thicket Recreation Center
Services and Program
Please note, a valid, government-issued photo ID (driver's/non-driver's license or passport) is required to enter all DPR aquatic facilities.

If you are interested in holding an event or meeting at this location, please fill out DPR's permit application. Please note, that there are associated fees and requirements when permitting any DPR facility or property.