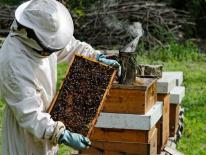 DPR is excited to announce a new beekeeping program in partnership with the DC Beekeepers Alliance (DCBA). In an effort to support urban beekeeping and to increase pollination in the District, DC residents may apply to keep their personally-owned honeybee hive on one of seven DPR designated beehive locations. Participants must register their hives, comply with all DC laws and regulations, and have a local mentor.
To ensure that each hive is safe and being responsibly managed, each designated beehive location is managed by the DC Beekeepers Alliance, an all volunteer, non-profit organization.
Interested participants must:
Be a resident of the District of Columbia.
Obtain a certificate of completion from a twelve (12) hour beekeeping course. Click here for a list of courses.
Have a local mentor. If you do not have a mentor, one will be provided.
Complete an application and once finished, email it to

[email protected]

.

For more detailed information or to ask specific questions about this program, please contact:
[email protected] (202) 262-2138
Swarm Assistance
Check the following link to confirm if you have a swarm of bees: Do you Have a Swarm of Honeybees?
If you see a swarm of bees, please contact: [email protected]
Please don't spray or harm the swarm!!!
Volunteer Opportunities
If you would like to volunteer to gain beekeeping experience, please contact the DC Beekeepers Alliance: [email protected].
Follow us on Social Media
facebook.com/dprurbangardens
instagram.com/dprurbangardens
Want to Receive Monthly Updates for DPR Programs?
DPR's Urban Garden Division partners with the DUG Network to do a semi-monthly (twice a month around the 1st and 15th) newsletter that highlights all DPR programs and registration openings along with other urban Ag, food security and environmental programs, workshops, job openings, grants, tips, etc, in greater DC. To view past newsletters or to sign up for future newsletters please visit this link or email [email protected].
The DUG Network website also has a searchable database of over 500 organizations working in DC in urban Ag, food security, and environmental programs along with many other resources.