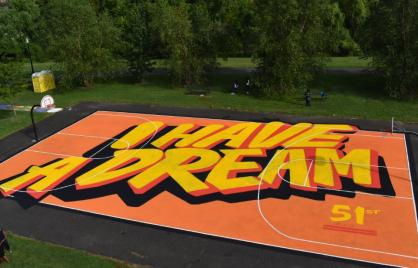 (Washington, DC) – Today, August 28, 2020, the Bowser Administration and the DC Department of Parks and Recreation (DPR), in conjunction with the Steve Francis Foundation unveiled newly renovated basketball courts dedicated to the memory of Dr. Martin Luther King, Jr. at Oxon Run Park in Ward 8.
"We graciously accept this gift for the community and thank Steve Francis for giving back, through the sport he loves, in a way that encourages and inspires, said DPR Director Delano Hunter. "It is sure to be a new destination for lovers of basketball and art in the DC area."
Steve Francis, former NBA All-Star and founder of the Steve Francis Foundation, dedicated the mural to honor the anniversary of the "March on Washington." The mural was painted on the two basketball courts located on the corner of Wheeler Road and Valley Ave. SE in Oxon Run Park.
The "I Have a Dream" mural was designed, painted and installed to raise awareness of voting rights, civil and racial equity by using his platform and standing in solidarity with other professional athletes calling racial justice. New hoops and nets were also added to the outdoor amenity.
The Steve Francis Foundation partnered on this donation with Venice Ball, who managed the renovation project and assembled the muralists and painters.
Taking part in the ribbon-cutting were DPR Director Hunter, Ward 8 Councilmember Trayon White, Steve Francis and a small group of community leaders and residents.
###
Social Media:
DPR Twitter: @DCDPR
DPR Instagram: @DCDPR
DPR Facebook: facebook.com/DCDPR
DPR Website: dpr.dc.gov